INTERNAL VOID (Matricide) CD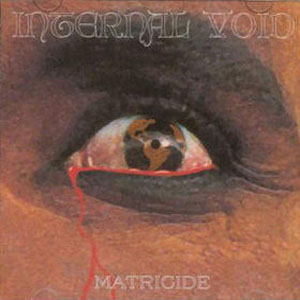 "A massive slab of solid rock" one can read on the cover and that's what it is! No, it's more - it's a massive slab of virtuosity and beauty, too. A statement of truth and honesty! After four long years Internal Void are back with their third album that was feverishly anticipated by me. While the first (excellent) album has been released by Hellhound Records and the second (excellent) one by Southern Lord, the band has founded now their own label, entitled Dogstreet Records. "Matricide" continues where "Unearthed" had stopped, what simply means: superbly crafted doom-tinged heavy rock from one of Maryland's premier bands. Internal Void were never stylistically limited, though the Sabbath-influence is still here, but it's just one piece of the whole puzzle. Stunningly dynamic, the album shifted seamlessly from blues-laden, heavy progressive patterns to powerful sledgehammer riffing. But everything is still very emotional and there's enough space for mellow parts. Whether negotiating the climatic blues of "Next Time 'Round" or ripping out the power drill rhythms of "Carried By Six" each musician wielded their instrument like a weapon, deadly accurate and timed to perfection. I picked two tracks out of nine, but actually every track deserves a single review.
Singer JD Williams, meanwhile, has one of the most distinctive vocals in heavy rock. He's never needed to copy anyone and is still a class of his own. Kelly Carmichael's guitar skills are impressive as usual. He's able to play highly emotional solos, and original high-quality riffs on a virtous level. Needless to say that he developed a very own style over the last 16 years and belongs to the best. And than here's a rythm section other groups are dreaming of. Bassist Adam Heinzmann and skinsman Ronnie Kalimon deliver a musical spine that is more than solid - it's perfect! Maybe the only low point is that R. Kalimon left Internal Void after the recordings, but with Mike Smail (Penance) this men have found a proper replacement. Another oustanding fact about Internal Void is their god-given talent to create majestic hooklines and at least I like to mention the intelligent lyrics that are well worth to take a look at. Forget all the overrated shit out there, all this pseudo heavy nonsense that pretends to be heavy - "Matricide" is the real deal! Internal Void shows once more that you need more than a stack of Orange amps and a Gibson to create heavy and soulful music. For me, together with "Show 'Em How" (Pentagram) and "Mother Teacher Destroyer" (The Hidden Hand) , one of THE albums of 2004!!!
(KK)