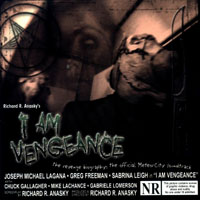 I AM VENGEANCE is the first underground psychedelic slasher movie where only bands out of the Doomrock genre are featured. The story is about the character David William Hughes and it details his transformations from a happy content (and ultra sheltered) mama's boy to a suicidal, drug addicted, vengeance seeking, self proclaimed prophet for the new millennium. The movie was produced and directed by Richard R. Anasky, who is a huge lover of traditional Doom and so he was also responsible for the appearing bands, which are LOWRIDER, DOOMSDAY GOUVERNMENT (ex-COUNT RAVEN), BLOOD FARMERS, THE AWESOME MACHINE, ETERNAL ELYSIUM, SPACE PROBE TAURUS, NAEVUS, sHEAVY, BONGWATER666, LAS CRUCES, RAINMAKER888, COUNT RAVEN and THE QUILL.
My personal faves are DOOMSDAY GOUVERNMENT, the new band from Count Raven - mastermind Dan Fondelius, which are featured with the tracks "I Am Vengeance" and "Decision". Between his old band and DG is no great difference, maybe DG aren't sounding so metallic like Count Raven. Dan Fondelius is also responsible for the two short tracks "Day Of The Comet" and "The Answer / "Vote Pearcy"" and for all of you who know tracks like "The Dance" you know what you can expect. The next highlight is ETERNAL ELYSIUM with a unique and ultra heavy cover-version of "Burning A Sinner" from the first Witchfinder General album. BONGWATER666 are appearing with "Cannibal Love Song", a very moody and melancholic track and the best I've heard from this band. LAS CRUCES comes up with "In My Sadness", a typical and good track that could have been on the "Ringmaster" album. The song "Scream" from COUNT RAVEN is also a good and typical track of them, maybe it is an outake from the sessions for one of the last albums of the Raven. My least fave of I AV are THE QUILL with "Mind Drifter" a total passionate heavy rocker with all the trademarks that I like about THE QUILL.
The songs from BLOOD FARMERS ("Bullet In My Head") and sHEAVY ("Sea Of Tomorrow") are the only two tracks on this soundtrack, which were released before. Together with the highly informative liner-notes from Richard and the beautiful cover of Jeff Shirilla (Abdullah) I AM VENGEANCE is an absolut solid soundtrack, very recommandable for fans of good old Doom and newer Heavy Psych Rock. If you miss maybe bands like Pentagram, Church Of Misery etc. don't panic, IAV Vol.II will be released on Game Two Records. This time the guys of METEOR CITY have released the first part of IAV.
(KK)