HYPNOS 69 (The Intrigue Of Perception) CD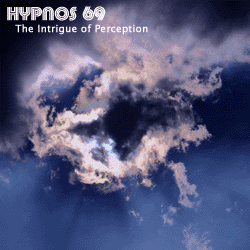 My love affair with HYPNOS 69 began, when I received the promo of their excellent album "Timeline Traveller" a few years ago. It was a truly magical album, with songs that would keep an audience fixed for an hour or two. In 2003, "Promise To A New Moon" saw the light of day, another convincing work of heavy psych rock, and one year later HYPNOS 69 signed with Elektohasch. This band had never much in common with the typical so-called "stonerrock" genre, what makes them more interesting and outstanding. Now, where the band recruited sax-player Steven Marx, though he had been a guest musician at the previous album, the new album signals a jazzier, fuller sound while electric spaced-out improvisations are still part of the entire sound. But all the elements that had made HYPNOS 69 to one of Europe's best heavy psych bands are in place; the smooth fluidity of the guitar runs, the 70's psychedelic rock sensibility and intelligent arrangements. "Good Sinner - Bad Saint" is the greatest surprise here; a hauntingly beautiful jazz-driven cut with an irresistible swinging groove and a shining sax solo.
Listening to this track is like watching the early morning sun while having a warm cup of coffee and enjoying life - just to mention one of my personal associations. "Twisting the Knife" is a charming heavy high energy song and is a typical piece of early-70's organ-based rock with a heavy driving beat and blistering guitarwork. The epic title track is certainly their most diverse sonic exploration, divided into four different pieces, which incorporates gentle acoustic passages, sequences of burning, lysergic free-structured power and jazzy strangeness within it's open parameters. Throughout the musicianship is superb and the production rich and deep. One of the best recent heavy psych releases coming from Belgium for sure, and "The Intrigue Of Perception" is a mature artistic statement from a band, which has fully realized their potential.
(KK)