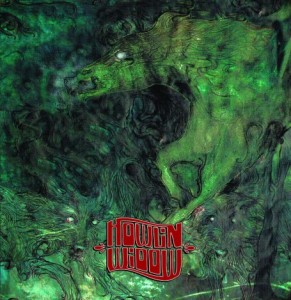 You better quit while you're ahead - this could be the slogan of HOWLIN' WIDOW. Hailing from Northern Ireland, the band existed only for 4 years (2007 - 2011) and never released a full-length but only a demo, an EP and this self-titled 7". Considering the fact that HOWLIN' WIDOW was an amazingly talented band, it is indeed a shame they broke-up. Their energetic brew of 1970's oriented heavy rock has much to offer, because HOWLIN' WIDOW have been able to add their own personality to that style. For this, full credit is due to singer Tom Clarke, who sometimes sounds like a unique mix of John Garner (Sir Lord Baltimore) and Dave Tice (Buffalo). Well, my description is somewhat vague, but I just want to say that he has pretty powerful and respectable pipes. And the best thing about it: nothing sounds forced or something like that.
While a few other vocalists try to sound as gruff and wild as possible (with an unsatisfactory outcome), Tom Clarke leaves me with an authentic impression. Furthermore, his voice superbly complements the filthy, blues-infused riffs of the two guitarists Gary Spence and Jason Hendry, while the machine-precise rhythm section comprising of bassist Dave Boyd and drummer Tony Murray provides the additional punch. Based on that alone it is a pure pleasure to listen to the two previous unreleased cuts on this 7".
Side-A kicks off with a heavy, fast-paced stomper called 'Exorcised Accidental'. This song totally rocks in all its glorious rawness and doesn't let you go anymore. The same can be said for 'Son Shine' that can be found on the flipside. Underneath Tom Clarke's unbridled insanity there are some tight rocking grooves and also here, the 1970's are all around us but in an unobtrusive way. Overall, it is clear that HOWLIN' WIDOW got the perfect mix of groove, heaviness and melody, but much more importantly, they have plenty of personality. Everything about this strictly limited 7" (250 hand numbered copies including a download link), from the songwriting to the musicianship to the vocals to the production - is top notch. HOWLIN' WIDOW, I will miss you!
(KK)