HOUSE OF AQUARIUS (The World Through Bloodred Eyes) CD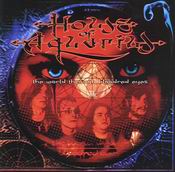 Here we've got the latest promo of this Swedish four piece and like a lot of their other Swedish comrades they stick knee deep in the early days of 70's Heavyrock. This self-released promo contains also three songs of their "Promo 2001" and so you can listen to eight heavy soulful tracks. They've added a sleazy vibe to a few of the songs, but mostly they are playing in the vein of legendary bands like Stray, Mountain, Sabbath or Captain Beyond. It's bluesy, heavy and doomy and I'm surprised that the bands been only around for almost a year, because the songs are skillfull arranged and played with authentic emotions.
Two of my personal highlights are the dark and mighty "Unholy" that reminds me to Grand Magus and the closing track "Fear No Evil" with its 70's like beginning that bursts out into a powerful groovy Sabbathish up-tempo part. That rocks! You really can feel the energy of the band! The vocals on all songs are also very good and they carry the dark and rough vibe of HoA. When I compare this two songs with the newer ones, I would say that the new ones are going more into a lighter modern direction with a sometimes different vocal-style. Don't know, if it's still the same singer as on the last three songs. I think, that HoA are a very hopeful young band and if they get the chance for a record deal, you can be sure that the debut album will be a good one. Hope they've get their chance. I would sign them!
(KK)