HIRAX (El Rostro De La Muerte) CD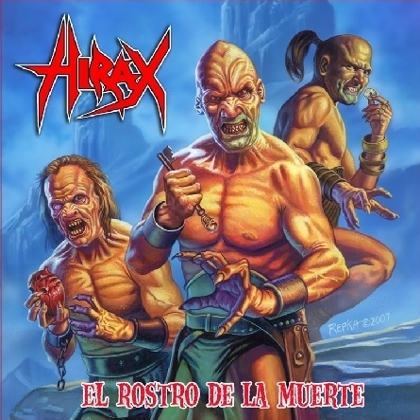 The legendary 'Anglican Scrape Attic' 7" compilation was like a goldmine for me in 1985. I discovered some real outstanding bands with the help of this flexi 7" and one of them was the US band HIRAX. They were among the bands that appealed to hardcore punks and metal fans due to their ripping musical mixture of speed metal and hardcore. HIRAX's debut 'Raging Violence' is a classic album today and if you want to talk about the merging of metal and punk in the 1980's (we called this crossover at that time), then it would be a crime to forget that record. Since then, 25 years have gone by and I must say that I didn't follow the band's career over the last two decades. That is why I was particularly pleased about the latest promo package from Selfmadegod Records which among other things contained the new album from HIRAX. In the meantime, vocalist and bandleader Katon W. De Pena has gathered a completely new lineup and the hardcore influences have disappeared.
That doesn't matter anyway, because 'El Rostro De La Muerte' is a large calibre thrash metal projectile that wields an enormous amount of power. Just like then De Pena's inimitable, raspy, aggressive vocals are in the centre of the tracks and I like his mature voice better than in former times. Most of the songs are loaded with distinctive hooks as, for example, 'Flesh And Blood' or 'Satan's Fall'. The production is heavy and crunchy and emphasises the sonic ferocity of 'El Rostro De La Muerte' while the consistent brutality of this album is a sheer joy. And even if they slow down the pace there is no loss of energy and power. Another plus is the fact that HIRAX neither chum up with current trends, nor do they try to revive their own past. All of this is proof of the band's creativity. Simply put, HIRAX's 'El Rostro De La Muerte' is not only one of their best releases, but also one of the best thrash metal albums of the last ten years. Fourteen mind-boggling cuts will kick your ass and I can only hope that HIRAX will go on the same way like here. I am greatly impressed! No wonder that Edward J. Repka could not resist to draw the artwork for that killer album.
(KK)