HIGH WATT ELECTROCUTIONS (The Bermuda Triangle) CD-R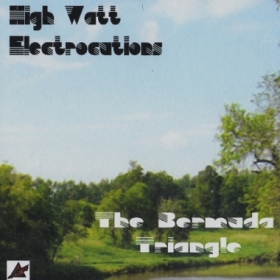 'The Bermuda Triangle' is not only one of the most fascinating psychedelic releases in 2010, but also an extremely stunning album. It has been created by Ryan Electrocution and comprises only one track with a playing time of 39 minutes. Perhaps this sounds like a trip into a sonic world, where boredom reigns supreme, but precisely the opposite is true. With the aid of acoustic and electric guitars, pianos, and synths, Ryan Electrocution ably manages to create an emotional journey through different moods and segments with a love for detail. The transitions between the individual parts are fluid and very quickly the listener is drawn into 'The Bermuda Triangle'. And yes, it is possible to get lost there, because Ryan's thoughtful, carefully crafted web of sounds leaves no other option.
Despite the meditative effect, it never becomes repetitive or predictable. Listening to this is an epic, truly awesome adventure in sound. It is a spiritual and deep album that evokes a mystical sensuality that is very difficult to put into words. The whole thing is clearly influenced by 1960's psychedelic rock/pop, and I have found small particles of bands such as The Beatles, Pink Floyd or Spacemen 3. Notwithstanding this, 'The Bermuda Triangle' can stand on its own two feet and shows quite clearly that Ryan E. has his own artistic vision. Unfortunately, I have not had the opportunity to listen to his previous two releases, but I can well imagine that they offer high quality, too. I also like the fact he does not care about the music industry. He is an authentic representative of the do-it-yourself attitude and on the basis of that, 'The Bermuda Triangle' has been released on his own label Instrospection Records and is strictly limited to 500 copies only. It's definitely one of the most inspiring albums I have heard this year. Buy it, put on your headphones and retire to a mysterious, bittersweet nirvana.
(KK)