HERMANO/ORQUESTA DEL DESIERTO (s/t) Split-MCD-R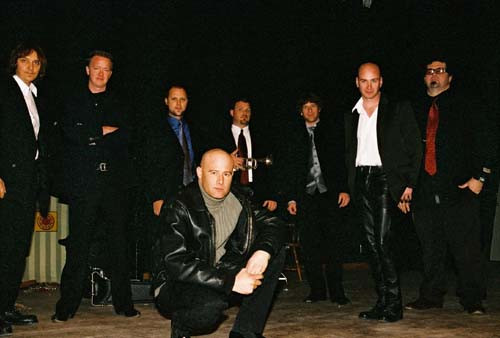 Everyone who's aware of the musical biography from John Garcia maybe knows that he was part of HERMANO in the late 90's and I'm not quite sure if he's still around with them nowadays. The two recording sessions are dated back to 1998-99 and the result are the two tracks "The Bottle" and "Landetta". I don't know, if these songs ever were released before because they were totally unknown for me. The opener is "The Bottle", a heavy crushing blues-laden mid-tempo rocker. The sound is more metallic and hypnotic, than in Slo Burn or Unida. I can't help, but the riffing reminds me to Las Cruces and that's alway o.k. for me. John Garcia's vocals are still on top, and he shows us once again his talent. "Landetta" is more in the Kyuss vein with this typical Josh Homme style riffs, but due to the harder guitarsound it doesn't sound like an old Kyuss outtake. For more informations visit the HERMANO homepage.
In the line-up of ORQUESTA DEL DESIERTO are names as Pete Stahl (ex-Scream, ex-Wool, Goatsnake) on vocals, Alfredo Hernandez (ex-Kyuss, Ché) on drums or Mario Lalli on guitar. Ok, enough name-dropping let's go back to the music. Aside of this musicians are five other guys involved in this project and ODD aren't playing any kind of heavy rock. The first song"Shadow Stealing" is filled with acoustic and electric guitars and an dynamic drum beat. Pete Stahl vocals is good as ever and two additional hornplayers are putting something like a Mexican atmosphere into the songs. Great stuff! The second and last song "Mary Strange" knows to entertain with a Velvet Underground-"Loaded" vibe. It's more 60's than the first song and again fronted by the soulful vocals of Pete Stahl. Both songs were recorded in 2001 at the Green Room in Palm Springs and were produced by Steve Dandy Brown. To sum it up; this promo MCD is a small jewel and I hope that it will be released very soon.
(KK)