HELLBASTARD (Eco War) MCD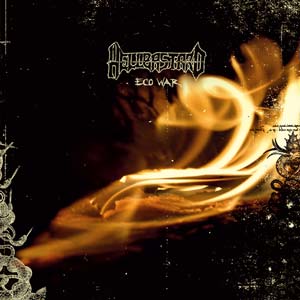 I am constantly surprised when I read in various websites that HELLBASTARD belong to the precursors of crust punk. Well, ok, the band has been founded in 1984, but they released their first demo in 1986. At this stage, groups like Amebix, Sacrilege, Antisect, Icons Of Filth and Concrete Sox had already released a lot of stuff, quite apart from the fact that especially the above-mentioned bands are the true "inventors" of apocalyptic metal-influenced hardcore punk, because this is precisely what people today call crust. Let us return, however, to the present topic. 'Natural Order' was the last HELLBASTARD album that I've heard and that was 20 years ago. For me, that record was nothing extraordinary and I wonder how the band has developed over the last two decades. 'Eco War' (that simultaneously has been released with the new full-length 'The Need To Kill') starts quite promising with the instrumental 'Gone Postal (Reprise)'.
It is immediately noticeable that HELLBASTARD live out their thrash metal preference and this also applies to the second track 'Sea Shepherd'. That sounds like it could be really good, but the vocal effects spoil the fun for me. I have the impression that the band tried to sound trendy or whatever. 'Woe, The People' runs in a very different direction and sounds more like a 1970's hardrock track, including a hammond organ. Once again, the vocals are the weak point, but also in other respects there is nothing remarkable about it. 'Massacre' is pure thrash metal and more effectively than the two previous songs. The last track is a nice cover version of Slayer's 'Die By The Sword'. There is no doubt about the quality of their musicianship, but it appears in this case that they have run out of ides. And when there are some good riffs such as 'Sea Shepherd', the band starts to ruin it with annoying and unsuitable singing. All in all, I am slightly underwhelmed.
(KK)