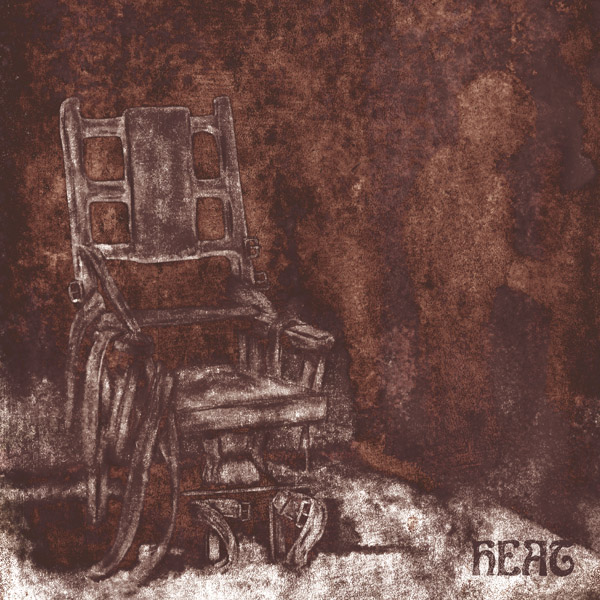 This album is not only the debut of HEAT, but also the second release from Electric Magic Records, a new German label that is runned by Christian Peters, who some might already know from Samsara Blues Experiment as well as from the Electric Magic webzine. He proves good taste with HEAT who have committed themselves to the heavy rock of the 1970s. Consisting of members from bands such as Samsara Blues Experiment and Grandloom (to give but two examples), the band delivers a six song album where you can hear the ghosts of very early Black Sabbath, Buffalo, Hairy Chapter or Jerusalem. This is roughly the musical direction of HEAT and it's obvious that it suits them very well.
'Old Sparky' is mostly straightforward and even the longest track 'Ending Aging', clocking in at 15:42 minutes, is a hard rocking affair. The opening cut 'Daymare' is only half as long and less wild, but it is still a successful introduction to the sonic world of HEAT. Both guitarists create the necessary heaviness and have enough room on the song as well as on the album in order to unfold themselves. The predominant ones are certainly the crunchy fuzz-drenched riffs, but there is always enough time for some nice bluesy guitar solos that bring more life to HEAT's music. I have to admit, however, that I needed some time to get used to the wailing vocals of Patrick Fülling, who tends to overdo it in certain moments. On the other hand, it increases the 1970s vibe of HEAT, because there have been several German heavy rock bands in the 1970s which also had an eccentric singer in the lineup.
On the whole 'Old Sparky' is a very ambitious album that features some really cool songs such as 'Warhead', 'Hamelin' or the above-mentioned 'Ending Aging'. Of course, it should be clear that HEAT are no innovators and they don't want to be something like that. Their aim is to be preservers of heavy 1970s rock and their promising debut shows that these cats are on the right path to establish themselves.
(KK)