HEARSE (All Soon To Be Dead...) LP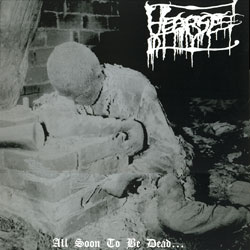 Formed in 1997, I never really heard of this extraordinary US band, before I got this great LP as the fifth part of PAINIAC Records' "Suicidal Doom - series". The album consists of the two demos HEARSE released between 1997 and 2000, namely "Plague & Disease...Holocaust & Armageddon" (Side I) and "So Shines a Good Deed In a Weary World (Side II). They call their style "Funeral Metal", but whatever the fuck you may call it, it's for sure one of the most EVIL records I've heard in quite some time! Pace is mostly midtempo to slow. The overall sound is rough and compliments the dark riffs and melodies, creating an unconvenient and dreadful atmosphere, you have to experience yourself, to fully grasp it.
The vocals are sung in a dark, deep yet "crispy" (for a lack of better word...) way, executed in a really evil sounding manner, which comes as no surprise, as vocalist Cazz Grant aka The Black Lourde of Crucifixion also sings in one of today's best Black Metal acts, namely GRAND BELIAL'S KEY!! Sometimes HEARSE remind me of a doomier, deadlier "Welcome To Hell"-era VENOM playing at some mass-murderer's funeral (there you go again...), to give you at least some kinda hint. 8 trax are featured in the whole run, which altogether make a playingtime of 50 + minutes. So, in case you have the chance to still get hold of this strictly limited (400 copies) rotten gem, be forewarned, as this one's gonna make your flowers wither, and your hair turn to grey...
(OPOLUS XXXVIII AS)