HACKMAN (The New Normal) CD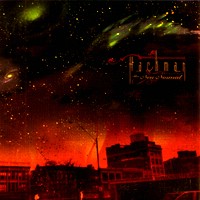 My first impression after listening to the debut album from HACKMAN was that this three guys must have a big fondess for Karma To Burn. Some of the seven songs have the same structures and most of them are instrumental, but it's obvious that HACKMAN have enough potential to create their own massive blend of riff-centric heavy rock. Especially because this three musicians are no real newcomers. On guitar and vocals it's Darryl Sheppard, who was part of the mighty Milligram as well as Roadsaw, while bassist Jase Forney and drummer Tood Bowman have been in the line-up of Lamont. The routine of their musical experiences is definitely one of the reasons, why 'The New Normal' is totally enjoyable and real good fun. While the first two songs 'Packed Bat' and 'The Anthem' are more in the vein of the already mentioned Karma To Burn' HACKMAN unfold their power with songs like 'You can't ever get what you want' and 'The Chin'.
Both tracks are heavy rockin' monsters, and whenever I listen to them it's hard for me to stand still. I hear a bit of Milligram and Roadsaw in this songs, although 'The Chin' is also influenced by Karma To Burn's riff-o-rama rock. The fourth track 'I don't need this shit, I played Budokan' is darker and more furious than the previous songs, and one of the very few cuts that include short lyrics. 'Ababac' is the funkiest song of the album and it's a good contrast to the rest of the material. The biggest surprise here is 'Fuck you, I played Altamont', not only because HACKMAN prove once again their sense of humour. It's a relaxed number, where bassist Jase Forney plays trumpet and this song is like the quiet after the storm. This is a promising new band and I can imagine, that they have much more to offer in the future, because this is a good start.
(KK)