GUNSLINGER (Earthquake In E Minor) LP/CD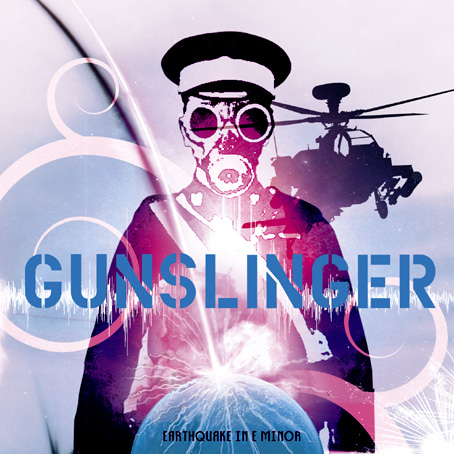 If you've been following the history of Hawkwind, then you should already be familiar with the name Alan Davey, who joined the band in 1984 and was in the line-up for almost 23 years until he left in 2007. There was a short break for four years, but nevertheless nobody played bass in Hawkwind for such a long time as Alan Davey. But his musical career didn't start in 1984, and it was in 1979 when he formed together with guitarist Nigel Potter the band CHAINSAW who altered their name in GUNSLINGER a few years later. The played a lot of spectacular gigs at that time, recorded one legendary demo but unfortunately a record deal was never signed and then as is well known the band split-up, because Davey was auditioning for Hawkwind and Potter for Motörhead. After he left the most influential space rock band of all time, Alan Davey and band re-recorded the old demo and released 'Earthquake In E Minor' in 2008 on his own label Earthquake Records. Because it was nearly impossible to find a copy, Buzzville Records released the album in 2009 with different artwork so that it's now much easier to get a copy. Well, enough history lesson, but I've a notion that it was good idea, because I'm certain that a lot of people will blame GUNSLINGER for being a Motörhead rip-off.
If you consider the history of GUNSLINGER and the year when this songs have been written than it's just unfair. Of course, songs like 'If The Bombs Don't Get Ya, The Bullets Will' or 'Don't Need You' could've been also written from that man who used to be bassplayer in Hawkwind from 1971 - 1975, but GUNSLINGER play this sort of stuff with more passion and energy than 90% of all that Motörhead wanna-be's. It's also no surprise that here's a preeminent space rock edge in each of the included eleven songs which reminds me not only to Hawkwind, but also to Alan Davey's solo albums. His thunderous white-knuckle Rickenbacker ride is augmented by Nigel Potter's galactic electric guitar and George Agent's steady, simple drum beat keeps pushing the whole heavy sound forward. Between the blistering fast tracks there are songs where GUNSLINGER slow down the pace and fully reveals their space rock background, without losing the heaviness. I dig 'Earthquake In E Minor' because GUNSLINGER deliver the real genuine sound, even if they don't break new ground, but they're just so ripping and trippy that a lot of bands should take a page from their book. This album will also be released as a 12" vinyl via Rock Saviour Records from Germany, so in conclusion it's highly recommandable! Go and buy it!
(KK)
http://www.myspace.com/alandaveygunslinger
http://www.alandaveymusic.co.uk