GRIFTER (The Simplicity Of The Riff Is Key) MCD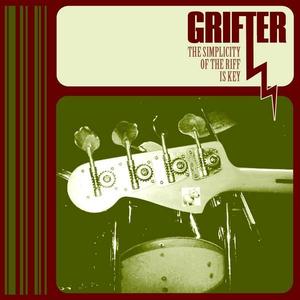 Instead of releasing average albums, UK's power trio GRIFTER has decided to release above-average EP's. The first one named 'The High Unholy Mighty Rollin' EP' was a good appetizer, but 'The Simplicity Of The Riff Is Key' is almost like a full meal. In the meantime, the band has been signed by Catacomb Records, but otherwise everything else will stay pretty much the same, and that's really good. GRIFTER sweating out their heavy blues by the help of four brandnew tracks that belongs to the best I've heard from this band. For example, 'Pendulum' is a damn powerful heavy blast that builds on a simple but cool guitar riff. The whole is supported by a monstrous drive, which intent on kicking ass as much as possible. If that sounds a little silly, well, why not? There's is no other way to describe that killer track.
The rough vocals of guitarist Ollie add a nice whiskey flavour to GRIFTER's turbocharged 1970's-influenced heavy rock, but, overall, everything functions properly in this well-oiled riff machine. 'The Voices' sounds almost as if Cactus, Mountain and Lynyrd Skynyrd had recorded a song together. The refrain sticks to your ear like glue and is made for your next summer garden party. So I do not mind that a few of the riffs have been adapted from Cactus' version of Howlin' Wolf's 'Evil'. 'Blind Rat Swarm' has its roots in the 1960's and was refinded with a tastefully integrated Detroit high-energy rock edge while 'I Jesus' is an anthemic stomping boogie rocker. Unfortunately, after almost sixteen minutes the playing time is over, but I hope that GRIFTER will return with their third EP very soon. I have no doubt that it will be a further increase, because that band is on the right track.
(KK)