GRIFTER (Elephantine) MCD-R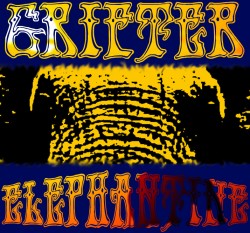 Hailing from the UK, the trio GRIFTER offers the listener a self-released three-tracker, which should be interesting enough for all fans of heavy 70's infected grooves. Mostly, the band reminds us to Clutch, without being as virtous as the fine Maryland-based group, but with the same focus on grooves, grooves and hm.....grooves. Even the vocals of guitarist Ollie are sounding as if he's the small brother of Clutch-vocalist Neil Fallon, and for sure GRIFTER won't win a price in originality, but in spite of this fact I can find something inspiring about the included three cuts here.
Yes, they inspire me in having a good time once in awhile, and just to enjoy good ole rock 'n' roll - that's what this band is all about, and they've captured this attitude within their songs in a very nice way. Sometimes a slight southern-rock vibe shines through the songs, especially in 'Man Bites Dog', while the opener 'Elephantine' sounds a bit like The Obsessed in the early 1980's. This release is a nice start, and although here's a lack of identity, I guess that GRIFTER will carve out their own within the next years. Maybe any heavy rock-label could help them...
(KK)