GRIEF (...And Man Will Become The Hunted) CD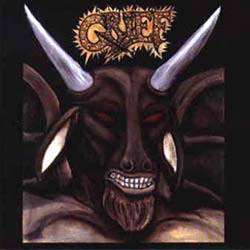 This is no Hippie-Stoner-Shit for all people who don't know GRIEF. GRIEF play beautiful monolithic Doom with a nihilistic view on life.They released a lot of 7"'s on different small labels and their timeline goes back to the end of the 80's.This is the new album,again on PESSIMISER REC., with eight new tracks. GRIEF have altered their songs a little bit. There are more breaks within the songs and some melody fragments.
Not every GRIEF album sounds the same, just listen to the details in their music.The lyrics are great again, like "Ostrich" or "Predator". GRIEF have a lot of criticism about our fucked-up world, and I'm glad that they write about it, not about cars,girls or funny drug experiences.The whole artwork was painted again by Eric Harrison,who is also the bass-player.For all people who don't know GRIEF, I give you the advice to discover their world...it's more than only entertainment... It doesn't matter if you check out one of the older records like "Dismal" or "Torso"or this new album, get in touch with the uncomfortable reality.
(KK)