GRAAL (Tales Untold) LP/CD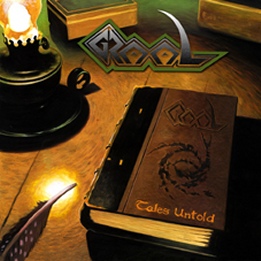 As I received my last promo package from Black Widow Records it also included this disc from an Italian band, but basically 'Tales Unfold' has been released by Bloodrock Records in 2007 and it's only exclusively distributed by Black Widow. This is the second album of the Italian band GRAAL, and it's like a stunning beauty! I haven't counted all the hours, when I listen to 'Tales Untold', but since I received it it's not easy to get it out of my player. Their music is deeply rooted in the 70's, but still the band is sounding very up-to-date, what makes this album to an extreme refreshing listening experience. The keyboard sounds very often like a Hammond organ, while here and there a slight progressive influence finds it way into the song structures. Mostly this happens when the keyboard changes from Hammond-like to a piano-like sound or to something that's more out-of-space. Still the songs are very catchy and they have some of the most beautiful vocal lines, I've heard for a long time. Apart of influences from the 70's, they have also thrown in a bit of 80's Hardrock and classic Heavy Metal, and of course some real heavy bluesy riffs so that their sound is always very earthy, yet full of diversity. 'Tales Unfold' often reminds me to the first record of Captain Beyond, because basically GRAAL are a Hardrock band, too, but they've integrated a few different styles into their sound and play their blend in its most organic way. Maybe some would call GRAAL hard progressive, which is also a nice description.
I also could add the early albums of progressive masters Gentle Giant to the list of the band's inspirations, but maybe this would distract from the fact, that GRAAL aren't belong to the bands, which are only on a retro trip. While a song like 'Last Day' is based on heavy smoking riffage which blends over into a calmer vocal -line and back, 'Walk of Clouds' is more an example for their flawless abilities in playing hard progressive rock. 'Silver Wings' could've been a track from the first Siena Root album, but actually both bands are connected with the same musical source, so I don't think that GRAAL feel inspired by the Swedish band. Once again I like to mention the emotional vocals here, but that doesn't mean a lack of power for the overall sound. Another fact, that elevates this album from a lot of other current releases is its diversity and the passionate power behind the music of GRAAL. Due to the production, it reminds me to most of the releases of Swedish label Record Heaven, and that's why I come to the conclusion that fans of bands like Lucifer Was or Abramis Brama should also buy a copy of 'Tales Untold' for their collection. GRAAL are a very powerful and dynamic group, and 'Tales Untold' is a very impressive debut with a lot of diversity, ranging from heavy Blues to Hardrock to Progressive. I hope, we'll hear more of them in the future, because this here is simply awesome!
(KK)