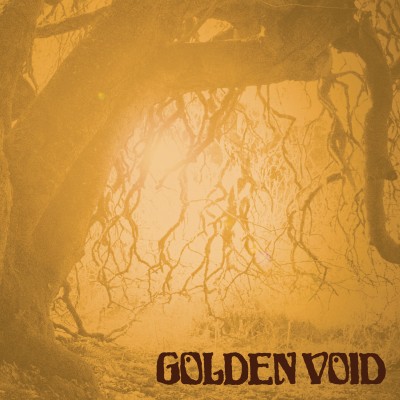 It sounds hopeful, when Earthless and Assemble Head In Sunburst Sound members join forces. And who would be surprised to hear that the result in form of this self-titled album has definitely a lot of potential. More specifically, there are some great tunes and not many weak tunes. From a musical stand point, GOLDEN VOID has more in common with Assemble Head In Sunburst Sound than with Earthless, although here, too, Isaiah Mitchell (vocals, guitar) sets the tone. But it seems as if his girlfriend Camilla Saufly-Mitchell (keyboards) has captured the vibe of 'Manzanita' (review here) and brought it to the recording sessions of this album.
There can be no doubt that GOLDEN VOID would be extremely at home in the late 1960's as their music has that West Coast psychedelic flavor that is mixed with a healthy dose of early Black Sabbath. Here, we have amongst others some hard driving, high-energy rock numbers such as 'The Curve' which is one of my favorites. Perhaps some readers still remember this cut from GOLDEN VOID's 2011 debut 7" for Valley King Records. In contrast to this, there is, for example, 'Jetsun Dolma' that owes much to Assemble Head In Sunburst Sound and Arthur Lee's Love. It's heartwarming, filled with a bittersweet feel and reaches my heart without a detour.
The same also applies to the last track 'Atlantis', that best is described in one word: gorgeous! Especially the vocal harmonies turned out very well and effortlessly manage to enchant myself. But on the whole, all involved musicians know how to be convincing and also the vintage yet powerful production is doing its share. As mentioned at the beginning, not all that glitters is gold (pun intended). I can't see any point in 'Virtue' and I do not like the robotic groove of this song, because it seems to me that it interrupts the natural flow of this album. But other than that everything's great. In other words, the self-titled GOLDEN VOID debut is full of jewels and should therefore be of interest to people with a good taste in music.
(KK)