GODLESS FUNK OF BONANZA (s/t) CD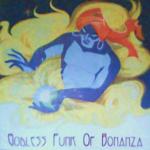 GFOB is a new band from Stuttgart, and this is their self-financed and self-released debut album from 2011. Already after the first spins, it's obvious that this power trio has made themselves comfortable in the world of heavy psychedelic rock. Comparisons with Colour Haze and Samsara Blues Experiment are inevitable, even if all songs here are entirely instrumental. But the loose structures and the way the songs build up as well as the complete sound picture reminds me strongly of the aforesaid German bands. But I also hear that GFOB strive for an own identity, with a noticeable effect on sudden tempo changes, guitar solos that are more blues-based, and harder-rocking passages. This reveals that the dynamic interplay between the three musicians is unpredictable and gripping.
Apart of the fuzz-drenched riffs, guitarist Josko is also responsible for the sonic ornaments on the included seven songs. I am particularly pleased by those moments where he unleashes an electric storm with bluesy lightnings and psychoactive clouds. His liquid guitar solos are full of feeling and I will not get bored as he has a lot to offer. But the rhythm section, consisting of bassist Jojo and drummer Felix, should not be overlooked. Heavy basslines melt together with a varied style of drumming which together results in a strong basis for Josko's eclectic style.
Each of the seven tracks has a jam-like feel and leaves plenty of room for improvisation, although this does not mean that GFOB have lost sight for the central theme running through each song. Their heavy sound is tight and focused, at the same time it's loose and flows like a mountain stream. I can honestly say that this is a very promising debut, and if they succeed in raising a stronger profile then I am sure that GFOB will be an established name in Germany's evergrowing territory of heavy psych rock. By the way, you can order this album directly from the band.
(KK)
www.facebook.com/pages/Godless-Funk-Of-Bonanza/197334070323976