GOATSNAKE (Dog Days) MCD/12"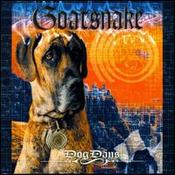 A new release in 2000 from one of the interesting bands today in the ultra-heavy DoomRock territory, released on SOUTHERN LORD Rec. "Dog Days" contains four new tracks and "Man of Light", that you'll find on a 7" (there's review in this zine, too!). This album was recorded/mixed in 1999 and its the old GOATSNAKE line-up, with Guy Pinhas (former THE OBSESSED) on bass. Today, G. Stuart Dahlquist (former BURNING WITCH) plays for GOATSNAKE. "Dog Days" is filled with the typical trademarks, the fantastic vocals of Pete Stahl, who sounds much clearer and very wistful. Great job done! Very low guitar- and bassound, too !!!
The opener is "The Orphan", a soulful song with devastating riffs,that turns into something peaceful and explodes into a GRIEFish monster. Second song,"Long Gone", is the fastest song ...hard and groovy! Then comes "Heartbreaker", a cover of the old song from FREE. GOATSNAKE have done an outstanding version out of "Heartbreaker" ,with an organ and altered lyrics. "Raw Curtains" is an instrumental....a slow and sinister track with a mystical atmosphere. At last, there is "Man of Light", that is more in the vein of the first album. Great record and better than the most, 'cause GOATSNAKE are no copy-cats of KYUSS or SAINT VITUS.....they have created their own world. Get this album, it's also relased on Cd and limited picture-vinyl (with one bonus track"Who Are You"...it's a cover version), and visit the SOUTHERN LORD website....!
(KK)