GLOBOSCURO (Integer) CD-R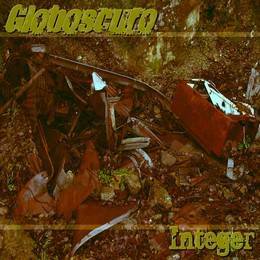 'Integer' is the second album that I received from Italy's industrial/ambient duo GLOBOSCURO and again, they deliver a tasteful combination of psychedelic ambience, krautrock electronica, and classic industrial. The first song 'Requiem For Jack Kirby' fills the air with layers of low-end rumbles, electronic bubbles and much more bizarre noise. The sounds are transformed and gather momentum with every minute until they finally tower up right in front of the listener. It is obvious that Emiliano Pietrini and Fabrizio Barsanti are creating their mysterious soundscapes very carefully and with a great love of details.
On the other hand they are capable to construct extremely unsettling songs such as in 'Au centre de deux nébuleuses'. This song is dominated by the female voice of Serena Zingoni and stuffed with eerie effects. If you want to scare the living hell out of your younger siblings than you should play this song in the middle of the night. Then the album is getting more silent with 'The Glowing Eye Of NGC 6751', but it doesn't mean that the overall mood will become more friendly. This track is dark ambient based on electronic manipulations with no hint of conventional melody or rhythm.
You will be either morbidly attracted by it or keep distance, but this also aplies to the entire album. 'Dei Glorni Morti' is similar to the previous track, but it contains a short vocal fragments spoken by Emilio Praga. With 'Integer' GLOBOSCURO has produced an album with real depth and presence and one that isn't easily forgotten once you've immersed yourself in the true darkness of its being. All five compositions are superbly constructed and spread a haunting and mysterious ambience that is captured perfectly.
(KK)