GINGER (Going Through Arlanda) LP/CD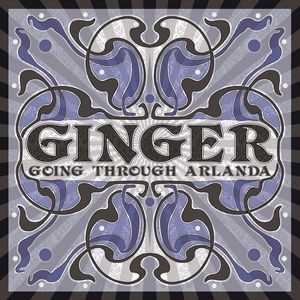 For the first time, I have noticed GINGER on the 'Trip In Time Vol.3' compilation due to their song 'Now I See', that belongs to one of my favorites. Since then, I had hoped to hear more from this Swiss band and now I'm able to do so, because a few weeks ago I found a copy of 'Going Through Arlanda' in the Cosmic Lava mailbox. It is not their first release, but their first self-financed studio album, and has been officially released at this year's Burg Herzberg Festival 2010. This can be considered as an indication of their music, because GINGER ignore all music that has been recorded after 1974. They have internalized the spirit of the late 1960's/early 1970's, and thus it is not surprising that they name their music 'psychedelic bluesrock'. However, I must say that it's a somewhat vague self-description even if the blues is ubiquitous particularly in the second half of the album.
Well, 'Rosie's' and 'Crosstown Bar Blues' are pure-bred bluesrock that brings to mind the Johnny Winter Band or B.B. King, but the first four tracks as well as the last one clearly show that mostly the music is leaning towards the hard progressive rock of the early 1970's. GINGER have integrated a lot of different elements, ranging from heavy rock and space rock through jazz to psychedelic rock. The opening song 'T-10' is a good example of this. At the beginning, you might think that you're on a nostalgic Hawkwind trip, but very slowly it changes direction and suddenly you find yourself surrounded by Latin-tinged jazz. And at the end a young David Bowie drops in and, inevitably, one gets the impression as if 'Hunky Dory' is currently being played. This may sound confused, but it works extremely well. It is also very authentic that a trumpet appears once in a while even when GINGER is a guitar-dominated band. However, as was mentioned earlier, we now find ourselves in the year 1972 and there it was quite normal for a progressive rock band to integrate brass instruments. In contrast, 'Who Are You' is a good mixture of folk rock and The Who during their hardrock period in the early 1970's.
Initally, 'Flesh And Skin' is an invitation to daydream at first, but also reveals the band's preference for jams. In the middle of this track both guitarists perform a smoking guitar duel. 'Raja' shows a strong Eastern influence, mainly due to an additional sitar which is coupled later with some funky jazz. There are many instrumental parts or whole songs without vocals, which leads to the fact that GINGER do a lot of improvisation and jamming live on stage. There is no doubt that GINGER have managed to revitalize the golden age of heavy psychedelic prog rock with the help of an extremely multifaceted album. It is precisely because this band has the technical capabilities, but also the necessary authenticity for such a venture. 'Going Through Arlanda' brims with self-confidence and style. Therefore, GINGER is a competent addition to the classic rock scene. Nice cover artwork, too.
(KK)