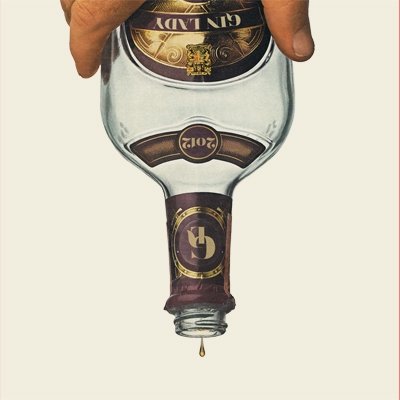 With a moniker like GIN LADY it should be clear where things are heading. We find ourselves again in the 1970's where hard rock ruled supreme. Born out of the ashes of Swedish heavy progressive band Black Bonzo, this is the debut record of GIN LADY (released by Transubstans Records) and it's a vibrant and refreshing start. This is because the band mixes a few variations into the hard rock formula to keep the songs interesting. Sometimes the music becomes more symphonic as with 'The Rest' without turning into pure kitsch. 'Lend Me A Hand' on the other hand offers soulful, southern-tinged rock 'n roll that sports some similarities to The Black Crowes.
But there's also enough room for hard riffs that are mostly backed up by a Hammond organ. 'Get It On' is an excellent example of the way in which guitar and organ merge into one and moreover it's a perfect proof of the the band's qualities as songwriters. Exceptional beautiful are also the thoughtful song arrangements as well as the tight musicianship and the captivating vocal harmonies. Finally, I musn't forget to give a mention to vocalist Magnus Kärnebro whose clear voice provides for striking accents. In addition, there's an underlying timeless edge, which ensures that the album never sounds like a forgotten leftover from 1973. As such, I can imagine that classic rock fans will be able to find enjoyment in the included 9 tracks.
Of course, GIN LADY is not about innovation and I could give you a whole, boring list of groups that have left an indelible mark on this album. That includes Lucifer's Friend, Power Of Zeus, Masters Apprentices and so on and so forth. But innovation is not GIN LADY's objective anyway, and they carry the torch of 1970's hard rock so well that I cannot but thank the band for such a very good album.
(KK)