GHOST (Opus Eponymous) LP/CD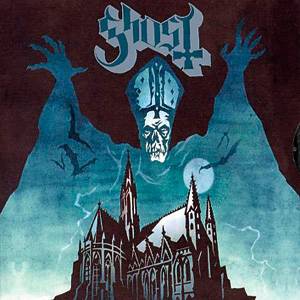 Friends, something irritating has happened. In order to understand why, you need to know that I live in a small German town and there I work in a small pub that is not really notorious for being a rock pub. One Tuesday I had opened the pub when some regular guests arrived early. 'Opus Eponymus' from Ghost was still playing, because I recently worked on a third version of this review. One of the guests, that did not really look like a hardcore metal fan, asked if that was the new Ghost album. She said she was digging it. I was quite irritated by her statement. Seems like the band already made a pretty impact in the scene and appealed to normal metal fans. And they did that for good reason. Though the band played at Hammer Of Doom fest, they do not have much in common with Doom.
Actually this is more Metal - "Black Metal" - if we want to believe the info sheet from Rise Above. And even though the band has a strong satanic and occult influence in the lyrics, this is not Black Metal in the sense that we used to know from the late 80s 'til now. There is a stronger musical influence from Mercyful Fate in the songs as well as in some vocal lines. Just listen to 'Con Clavi Clon Dio' or 'Elizabeth', where I have the feeling that this also could have been form the Danish Metal legends. Additionally, there is a vibe that reminds me of Blue Öyster Cult. Yep, you read right. Especially in some vocal lines and in other, more keyboard dominated song parts, I have to think of that band. But the combination works better than you might think. When they mix Metal and "progressive" Rock they do remind me of one of my all time favourites: the New Wave Of British Heavy Metal legends named Demon. Especially 'Stand By Him' gives me that feeling, simply because of that guitar melody around the 3:30 mark and hence this is my favourite track on the album. But this also could have been because of the really cool organ sequence there.
Although the lyrics are perhaps satanic, the music is more like enjoyable old school Metal/Rock then that kind of Black Metal I do really not dig. But there is something which I have to fault. The album is very short with a playing time of approximately 35 minutes. And some songs end rather abruptly. Apart from that, this anonymous six piece (that hides behind masks, hoods and make-up on stage) managed to create a cool album full of songs that should appeal to fans of the NWoBHM or early Mercyful Fate and even all of you occult rockers will probably like it. Not the best album on earth but a refreshing mixture and a further addition to the pool of new bands that do not want to follow the latest trend of the faster, more aggressive kind of stuff. (Instead, Ghost follow another trend, Oddy.... ;) - The Editor)
(Thorsten Frahling)