GENTLEMAN'S PISTOLS (At Her Majesty's Pleasure) LP/CD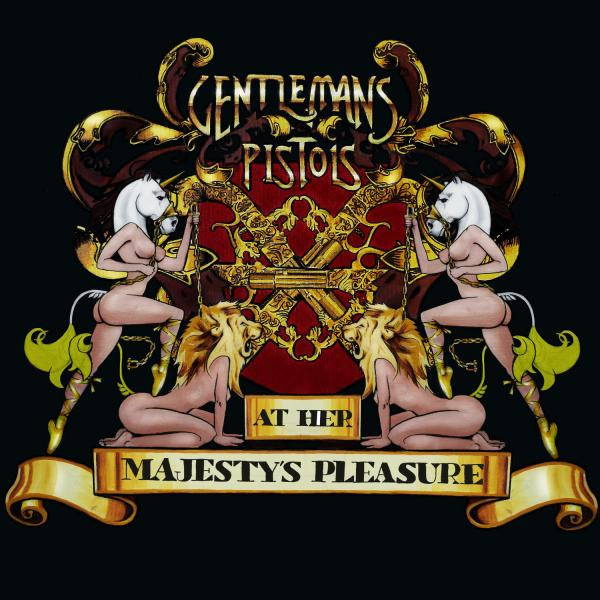 It's been a while since I wrote a review about 'Just A Fraction', which was the debut 7" from GENTLEMAN'S PISTOLS. That was a nice start for the band, but for unexplainable reasons I never had the chance to listen to their first album. Instead, I've seen their gig at Roadburn 2008 and that was a pretty good show. Three years later, GENTLEMAN'S PISTOLS are back with their second album and I am pleasantly surprised how much they have refined their vintage heavy rock. Continuing their mission of channeling the vibes of the 1970's into what could be appropriately called classic rock, this record is full of energy and powerful songs. GENTLEMAN'S PISTOLS moved on from the blues-based power chords of early Led Zeppelin and Ten Years After; instead, think of Kiss, Thin Lizzy, MC5, UFO, Grand Funk Railroad, and so on and so forth. On 'At Her Majesty's Pleasure' you can hear references to all this bands and it's all spiced up with a raw approach.
Sometimes, like in 'Living In Sin Again' there's almost a punk rock feeling, but the whole album is a perfect muscial blend of fury and restraint. It is obvious that the band has openend up the musical horizon, but without denying their own musical beginnings. The blues is still apparent, but the New Wave Of British Heavy Metal plays an equally large part, especially the early phase of that movement. If this album had been released in 1975, it would be safe to call it proto-metal. However, it is noticeable that GENTLEMAN'S PISTOLS did not try to capture a vintage heavy sound by all means necessary. In the meantime, they belong rather to those bands who have preserved classic 1970's rock/metal and transported it to the year 2011.
In taking on a blues-infected metallic hardrock flair, there's a new vitality and undeniable energy flowing through all twelve tracks. The clear production shows that there's a groove-laden dynamic and amazing technical skill in the group that just wasn't apparent before. Furthermore, the songwriting is also in great shape, what results in songs that stick to your brain like an old chewing gum under a wooden table. All this will be presented in a crisp production that also captures the intensity and energy of GENTLEMAN'S PISTOLS. Additionally, there is no lack of diversity and ideas, what leads to an entertaining listening pleasure. 'At Her Majesty's Pleasure' is a top-notch rock 'n' roll album that I would never have expected from this band.
(KK)