GENOCIDE/Nippon (Black Sanctuary) 2CD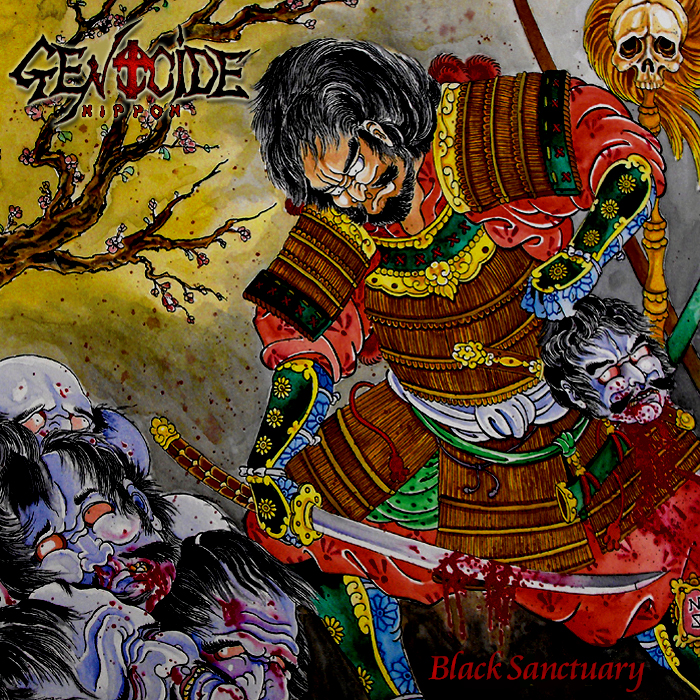 Japan has always been a fertile ground for some of the most interesting bands in the history of hardcore punk, metal and rock. Sometimes it's not easy to notice the difference compared to European or North American bands, but if the listener deals intensively with Japanese rock music then it becomes readily apparent that some of those groups tend to be a bit weirder. This is particularly true of the vocalists and GENOCIDE are no exception. The origins of the band date back to the late 1970's and 'Black Sanctuary' was their debut album that was originally released in 1988 on King Klassic. Meanwhile this album is very rare and became a collectors' item for many fans. But fortunately there is Shadow Kingdom Records, which re-released 'Black Sanctuary' in 2009, so that you don't have to pay a horrendous price for an original copy. On their first album GENOCIDE surprise the unprepared lister with strong blend consisting of classic heavy metal, doom metal and 70's hardrock. Noticable is the influence from Japan's legendary 70's heavy progressive band Flower Travellin' Band, particularly strongly in 'Landscape of Life'.
This ballad comes directly from the 70's which seems logical since the roots of GENOICIDE reach back to that decade. Even though each of the included 8 songs (plus the bonus track 'Gibakurai') retain a strong epic feel, the musical performing tends to be aggressive and powerful. There are riffs that would easily fit to an epic doom metal band, such as Solitude Aeturnus or Solstice. The NWOBHM has probably not gone unnoticed, whereby the orientation is more towards the Sabbath-esque bands of that musical period. Behind the hard riffing of 'A Bullet In The Wrong Heart' lies a heartwarming refrain which demonstrated clearly that GENOCIDE's songs are imaginative, melodic and always exciting. Especially vocalist Toshihiro Takeuchi will leave a longer lasting impression in many listeners. I have heard thousands of death/grind/harsh noise bands in my life but the vocal skills of this guy are pretty unique. He's working his way through the songs and fluctuates from a high falsetto style to a more aggressive attitude. And in between he squirms like a snake without losing his bite.
It's really difficult to describe his impressive style, but I can assure you that I cannot compare him with any other. He has to be heard to be believed. Well, ok, there are a few similarities to King Diamond and Mercyful Fate, but, all in all, they do their own thing. Kazuo Amaya and Kouichi Kawakami are riff specialists with a dual guitar attack that is so sharp you can use it as an egg slicer. They have a powerful, crunchy guitar sound and enjoy to show their technical abilities, especially in excessive solo excursions. The second CD consists of six demo tracks of very good quality. Although there are no unreleased songs on the second disc, it's interesting and entertaining to listen to the raw recordings. Additionally, there is a new amazing artwork done by Nicola Solieri, but the original cover is on the flipside of the informative booklet, including rare photos, lyrics and a full band history. In summary, Shadow Kingdom Records did the best and the result is another great re-release of an almost forgotten heavy metal jewel. Some of you doomheads should also check out GENOCIDE. It is certainly not wrong.
(KK)