GENEROUS MARIA (Command Of The New Rock) CD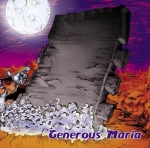 After the split CD with Skua the Swedish GENEROUS MARIA have changed the label, but not only that. I hadn't expected such a 70's sounding album after their first more metallic tracks on the split. Ok, the opener is closer to the older material, but the production has a greater live feeling compared with the older material. They have also taken influences from Monster Magnet, especially "All Units are Out" could be on "Superjudge" or "Dopes to Infinity" or "A Bed at the Edge of the Universe" is very close to to mid-90's Magnet. But the skillful vocals of Göran Flörstrom are saving GENEROUS MARIA before they are becoming an entertaining copy band. "Anchorage & Quito" is a very groovy fuzzy song and this song could be for all the Kyuss fans. One my faves is the relaxed and moody Doors-like "Soulflight" with additional instruments like an organ or the instrumental "Ashram of the Absolute". There's a huge 60's influence in both tracks, very psychedelic and smooth.
After the short journey into this musical period, the band switches over to the 90's with "All Good Things" and presents us their own version of Soundgarden combined with a hint of Bad Brains. "Dumdum Bullet" is an energetic groovy track, more like the old songs while "Firebug" sounds like a 70's heavy rocker. The album closes with the nearly ten minutes long "Bridge Out of Time" a slow and heavy rolling rocker with a long guitar-solo. I don't know, why they have titled the album "Command of the New Rock", because here's nothing new but GENEROUS MARIA are performing the song in a very charming and appealing way and they are fronted by a talented vocalist. If you're looking for a various and entertaining Hardrock album with a nice Malleus cover (remember the movie "2001"!), than check this one out. At least I like to add a statement of the label info, that sums it all up:" Chapters have been torn from the book of "Rock" and swallowed whole". For more informations go to the GENEROUS MARIA homepage or visit LUNASOUND RECORDING.
(KK)