GENEROUS MARIA (Command Of The New Rock - 2005 Edition) CD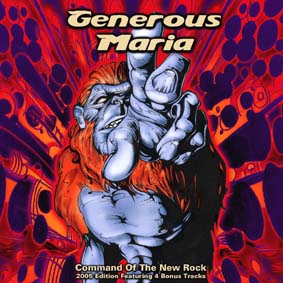 It has been three years ago, when I had already written a review about "Command Of The New Rock", the debut album from Sweden's GENEROUS MARIA , which at that time was released by Lunasound Recordings. Now, three years later Lunasound is no more and was bought up by Abstract Sounds, but all rights of this album was given back to the band. That's an occurence, that doesn't happen frequently in the dirty and corrupt music buisness. Anyway, the Belgian label Buzzville Records had taken the chance for this re-release in 2005 and to make it more interesting for the customers, the new edition includes a slight different cover-artwork and four bonus cuts. Although a few years have passed, I can only lose positive words about this album. For those among you, who aren't familiar with this gang I give you a small introduction. GENEROUS MARIA don't belong to the average Swedish fuzzrock bands, and beside of the typical 60's/70's influences, bands like Soundgarden or The Cult have also left their traces here.
Still, my personal faves are the moody organ-based "Soulflight" or the instrumental "Ashram of the Absolute" and both cuts are drenched in 60's psychedelic music, but "Firebug", with it's groovy and energetic 70's rock vibe, and the slow rolling "Bridge out of Time" haven't lost anything of their magic charm. What makes this album also recommandable for the ones who own only the first edition are the above mentioned four bonus tracks, that are taken from the "Crawl Back In" 7", the "Tungt Svenskt" double 7" and from the "Snake Oil Supercharm" compilation. For my taste, the additional cuts are belonging to the best material GENEROUS MARIA had ever written and recorded, and if they keep this quality with the upcoming second full-length they will be part of the spearhead of heavy 70's rock.
(KK)