GENEROUS MARIA / SKUA (s/t) Split CD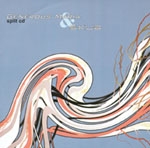 The Spanish label ALONE RECORDS presents us with this split CD two Swedish bands. Every band plays four songs and the openers are GENEROUS MARIA.Their Heavyrock contains influences from the 70's and the 90's and especially singer Göran Florstrom gives this Swedish band an own identity with his strong vocals. Does anybody know the second STILLBORN album "Permanent Solution" ? This record is always on my mind while listening to GENEROUS MARIA.
I think, that not every song is a killer but with tracks like "Strict Nurse" or "Lack of Faith" they show us their potential. Both songs are maybe known from the "Strict Nurse" demo. SKUA is a three-piece with a big QUEENS OF THE STONE AGE and KYUSS influence, but they are heavier, just listen to the heavy and low bass-sound in the first song "Swirl". To compare them with GENEROUS MARIA, they are more psychedelic but I miss an own identity, but it's a young band and maybe they will create their own vibe in the future and get out of the shadow from the above mentioned acts. Order this split-cd from ALONE RECORDS.
(KK)