GAS GIANT (Pleasant Journey in Heavy Tunes) CD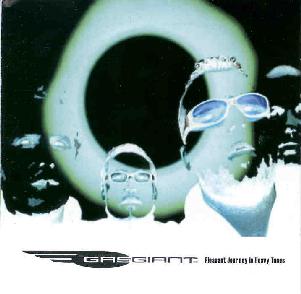 GAS GIANT is a part of the underground scene in Denmark for almost 10 years now and here is their first release on the small label BURNT HIPPIE REC. Their music reminds me to bands like HAWKWIND, BUFFALO and other 70's heroes but GAS GIANT are trying to give their songs an own identity. They use a very low and dirty bass-sound and the vocals from Jesper Valentin are very powerful, sounding like a mix between D.Wyndorf and D.Tice. The band has played together with NEBULA or UNIDA and for people who worship this acts, GAS GIANT is surley well worth to listen to.
The CD contains eight tracks and my personal faves are the first four tunes as, for example, "All Creatures" that starts like a J. Morrison poem and turns into a devastating Hardrock song. The sixth song "Desert Call" is, like the title says, it's very close to the well-known bands like QUEENS FROM THE STONE AGE and guitar-player Stefan Krey is playing like Josh Homme. The production is also very good and emphasizes GAS GIANT's absolutely heavy and dirty AcidRock. So, dear reader, if you like the above mentioned bands as well as the 70's, it's time to check out GAS GIANT.
(KK)