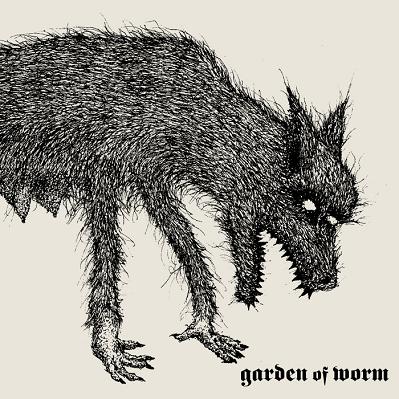 In fact I am no big fan of Finnish doom metal bands. Even though there are a few exceptions, I'm terribly bored with groups such as Reverend Bizarre or The Wandering Midget. But since recently I have a new favourite Finnish doom band and that's GARDEN OF WORM. Well, ok, they also tend to being a bit too pathetic, due to the vocals of bassist SJ. Harju, but the music is so energetic and dynamic that it doesn't matter. The cover artwork of their debut is somewhat reminiscent of Comus' legendary record although it's also completely different. But it has the same style and eerie quality, which fits perfectly with the music. However, GARDEN OF WORM have nothing in common with that English band from a musical perspective. Instead of enchanting the listener with 1970's progressive folk rock, GARDEN OF WORM is deeply entrenched in US-doom metal tradition, and there are some pretty strong musical parallels to bands like Revelation, Oversoul or Memory Garden, what I personally like very much.
In contrast to the above-mentioned Finnish bands, GARDEN OF WORM is not interested in fulfilling doom metal clichés on their self-titled debut album. There's enough room for diversity that generates creativity and the progressive leanings are evident. That is why I have mentioned, for example, Revelation. You only have to listen to the opening track 'Spirits Of The Dead' to discover the similarities between both groups. It would be reasonable to assume that GARDEN OF WORM tries to copy Baltimore's giants of doom, but fortunately that's not the case. The band manages with seemingly no effort to create an own identity.
Another unexpected song is 'Rays From Heaven', an instrumental track with additional flute. It could be taken from an obscure progressive rock record from 1971, but that does not mean that GARDEN OF WORM is on a nostalgia trip. There is no doubt that they have grounded themselves in the here and now. But actually all seven tracks are magnificent and extremely powerful. Most of the songs clocking in at a running time between six and almost eight minutes, but the arrangments are so clever and exciting that this album leaves no room for boredom. For me personally, GARDEN OF WORM's first full-length belongs to the doom metal highlights in 2010 and yet again Shadow Kingdom Records succeeded in releasing the next outstanding album. I'm blown away by the beauty and power of this band.
(KK)