GALLOW GOD (False Mystical Prose) CD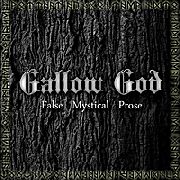 If you do not like the summer that lies ahead now and despise the laughing children, the sun, the warmth and all that stuff, then I got something for you to bring back the darker feelings of late autumn and winter. That thing is Gallow God's first album called 'False Mystical Prose'. These guys do not allow the slightest glimpse of hope or happiness to shine through in their music. This is Doom the dark way. And I mean the real dark way. When you just listen to this album without knowing anything about the band but know your doom a little you could quickly tell where their influences are and they are mostly from their own native country England.
The opening track 'The Sin And Doom Of Godless Men' brings the slowness of early Cathedral or Warning, while 'The Emissary' opens with a slight epicness to be founding the music of Unsilence or Solstice for example. These guys take the slow aspect of Doom seriously like contemporary bands such as Fall of The Idols or fellow countrymen The Wounded Kings, which they remind me of especially due to a similar vocal delivery and the spare use of the piano. There is no place for grooves or metallic riffs, just for devastating heavy riffs that barely switch into a higher gear. And thought the mentioned piano does give the listener a break from all those slow distorted guitars that intend to capture him in a miserable state, the melodies played on it are as sad as can be. So it was just a break from the heaviness not from the sadness.
Same goes for the slightly more aggressive opening part of 'Summon The Rune Wizard'. You think, maybe we get a slight more aggressive approach now, but then the slow and sad wailing returns that even the attempt of the double bass drum does not seem to break through. And when you go on a journey on the 'Ship Of Nails' you can finally say goodbye to good mood and sail to the miserable lands the Gallow God wants you to visit. Dark Doom lovers, people who miss the old days of Cathedral and listened way to much to the last The Wounded Kings album will find bitter enjoyment in this album.
(Thorsten Frahling)