FUZZ MANTA (Vortex Memplex) LP/CD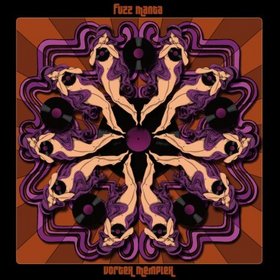 'Vortex Memplex' is now the third album by Denmark's FUZZ MANTA who prove once again that they are still a group to be reckoned with. The band is in fine shape on their new album which appears to me like the natural evolution of the previous effort 'Opus II' (review here). They introduce some new musical twists, while still keeping their signature bluesy hard rock sound. FUZZ MANTA have opened the doors even wider to let in more of that 1970's-fuelled influences with the result that 'Vortex Memplex' is a powerful, passionate collection of hard-rockers, but with a few softer moments sprinkled in to show their range. Vocalist Lene Kjaer Hvillum is again the one who gives an identity and soul to the music, although there are more female-fronted rock bands around than some years ago (by the way, a development I personally welcome, because fuck the patriarchy). Moreover her voice it the perfect complement to the heavy, fuzzy, and always bluesy guitar tone.
'Vortex Memplex' consists of five songs of which 'Tørke' clocks in at 30:46 minutes. Fortunately it's no aimless, excessive jam session but a proper song that includes some really good jamming. It's a 20 minute epic instrumental journey through explosive acid rock, and bluesy psychedelic soundwaves. During this journey, it never ceases to amaze me how skilful FUZZ MANTA haven woven their sonic web. It seems as if the band at that moment has been possessed by the immortal spirit of The Jimi Hendrix Experience, because it gives me great pleasure to listen to the electrifying guitar work of Freddy who is backed up by an inspired rhythm section. All in all, it's definitely one of the highlights of 'Vortex Memplex'.
'Vertigo' is another beautiful song showcasing the softer side of FUZZ MANTA, and here too the band doesn't lose their grip on me. 'And So She Speaks' is a southern rock-tinged rocker with additional acoustic and slide guitars, but one is also immediately reminded of Led Zeppelin. While we are on the subject of classic rock bands, pages from the playbooks of Free, Led Zeppelin and Robin Trower have been liberally plundered by FUZZ MANTA, but again they manage to give it a style of their own. Well, enough rambling. 'Vortex Memplex' is a powerful and matured achievement, done by one of the few outfits who know how such albums should sound. Recommended.
(KK)