FORSAKEN (After The Fall) CD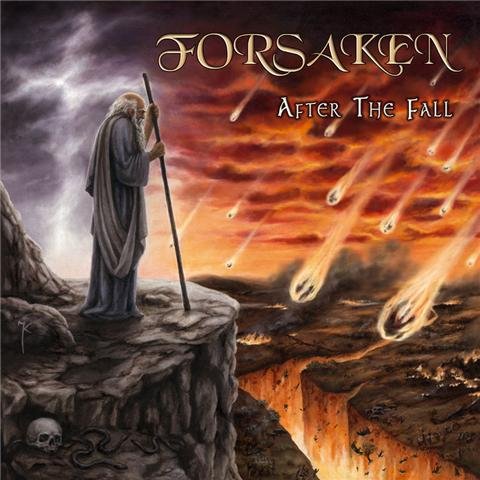 Astonishingly enough, one of the best epic doom metal albums in 2009 comes from the small Republic of Malta or more specifically from FORSAKEN. This Maltese band is no newcomer and a fairly well-known name in international doom metal circles. I still remember that gig at the first Doom Shall Rise festival in 2003 where they had a substantial grip on the audience. It is no real surprise when one considers that the band has been formed in 1990 and that they're well-versed with all the aspects of delivering a crushing live show. The fourth album 'After The Fall' shows how the band has developed as a group and how they have grown from past experiences. It was a good decision to banish the keyboards and, as a result, their music has a more powerful sound than ever before. Leo Stivala is undoubtedly a highly gifted vocalist and his performance is flawless. He carries the mood of each song without exaggerated dramatic art.
In the meantime, he's on the same level as Rob Lowe without imitating him. Sean Vukovic plays a mean guitar that can spout classic heavy metal or Black Sabbath-esque doom all in one riff, while the rhythm section of Simeon Gatt (drums) and Albert Bell (bass) provides a strong backbone to the music. The arrangements are majestic, supporting the apocalyptic theme of 'After The Fall' with power and passion. It is already a long time ago since Candlemass had written such magnificent songs like 'Armida's Kiss' or 'Aidenn Falls' which brings me to the conclusion that it makes more sense to spend your money for 'After The Fall' instead of buying the last Candlemass record. By the way, it should be easier now to find a copy at your local record store at last, because FORSAKEN was signed by I Hate Records. It was always very difficult to order one of their last albums in the past, due to miserable promotion and distribution. All in all an outstanding album highly recommended for all fans of Solitude Aeturnus, Solstice, Candlemass and Black Sabbath with Dio.
(KK)
http://www.myspace.com/forsakenmalta