FLUTWACHT (Herbstrost) CD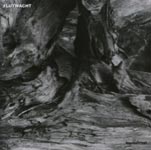 It is once again time to enter the world of noise/industrial and this time it's one of the latest albums from Germany's FLUTWACHT, released by the excellent Japanese experimental label Deserted Factory. FLUTWACHT is the solo project of Daniel Simon, who managed to create a rich and varied body of work and I must admit that I have lost count of the number of his releases. However, 'Herbstrost' consists of nine untitled tracks, leading the listener into an unreal and cold world. The first two songs are relatively peaceful that each lay their particular trap to capture and hypnotise their listener. Nonetheless, it is a step in a bleak direction where darkness reigns. Daniel Simon is a great talent, who effortlessly manages to create an oppressive atmosphere with help of field recordings and minimal drones. The result is ambient music at its best. From the third track, the album's mood changes abruptly and you can find yourself immersed in brutal power electronics territory.
The fourth track is particularly intensive, because of a human voice that sounds as if it has been recorded during a torture session. That is a real dismaying experience, but the execution is absolutely successful and convincing. After that, the fifth track is even more uncomfortable and reminds me to the ingenious Grey Wolves. It's as if listening to a giantic, restless machine, while the sixth song intensifies the effect by the help of abrasive, pulsing sounds. They generate a rhythm, which is not groovy or relaxed. It's just a cold, mechanical beat, which makes one feel as if one is standing in a factory. The boiling mass of the next track gets enriched with distanced voices, before Daniel Simon goes back to the initial minimal heavy drones and ambient cluster. Again, it's a very well-constructed song based on constant repetition, whereby a strong tension is created. 'Herbstrost' is no revolutionary or ground-breaking release, but it shows quite clearly that FLUTWACHT belongs to one of the best industrial/noise acts from Germany.
(KK)