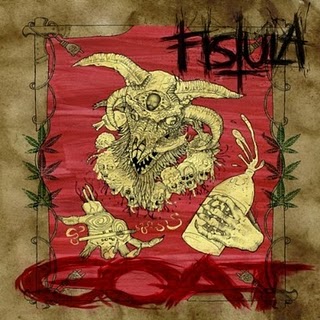 Welcome to the darker and unpleasant side of spending life in the city! With 'Goat', Ohio's FISTULA definitely have now reached a new level of poorly digestible and unbelievably filthy sludge. It is astonishing how they manage over and over again to reinvent their heavy sound with the effect that each new release is more brutal and more uncompromising than the previous one. Hence, 'Goat' is a clear progression and generally only recommendable if you're trained in dealing with extreme heavy noise-ridden sludge. Corey Bing, founder and head of FISTULA, says he likes to create something ugly that makes no sense and is treading the line between listenable and barely listenable. Well, ok, Cosmic Lava extends its congratulations to him, because with 'Goat' he and FISTULA successfully achieved their goal.
In that context, it matches well that this EP focuses on the theme of Anthony Sowell, an Ohio serial killer arrested in October 2009. He killed eleven women whose bodies were discovered at his Cleveland, Ohio duplex in the Mt. Pleasant neighborhood. Nobody can know what was going on in Sowell's fucked-up mind, but nevertheless the five tracks on 'Goat' are the right setting for such a horrible crime. First track, 'Ohio Death Toll Rising' buries the listener under a brutally distorted sound that does not disappear until the chaotic ending of the last song 'Mission Accomplished'. The production of this EP is so raw and vicious that it feels as if someone would clean your ears with sandpaper and rusty nails. That sounds pretty bad, but actually it's a challenge and new experience. And believe me, I listen to all kinds of music no matter how extreme or heavy it is. But 'Goat' is something special.
There are a couple of tracks as, for example, 'So Far Sowell So What' where the band has seamlessly integrated a refreshing dose of hardcore punk, but mostly the pace is sluggishly slow with similarities to the almighty Grief. In addition, samples from various radio and television broadcasts assure that the horror remains real. Once again FISTULA demonstrate that it's still possible to play sludge as it was intended: misanthropic, hostile, hard to digest and beyond of good and evil. The darker depths of the human soul can hardly be better illustrated than through the five tracks of 'Goat'. Crucial Blast has given us one of the sludge metal higlights in 2010 and all you sludgemongers should spend your money for this beautiful abomination. Great work, but I need a shower now.
(KK)