FAT NANCY (Pure American Muscle, Baby) CD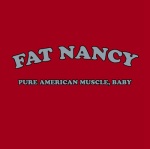 Does anyone remember Circus Of Power? It was a legendary but criminal overlooked US-hardrock band, which released some real goods albums between the late 80's and mid-90's. 'Magic & Madness' remains to be one of their best albums, and more than ten years have passed since then. After the band's break-up, I often ask myself what happened to the members, but a good friend of mine gave me an answer to my questions in form of arranging the contact to the promo-agency of FAT NANCY, because no one else than ex-Circus Of Power singer Alex Mitchell is the frontman of the five-piece band. This disc has been released last year in 2005 and it's the band debut on Perris Records. Nowadays, Alex is closer to his musical roots than ever before, and FAT NANCY are a living proof of the vitality and diversity of good old rock 'n' roll. This five old men don't need any gimmicks or any image, because honesty is their law, and the fast and furious opener 'Dance Little Suzy' is a hard punch in the trendy faces of 90% of all self-called punk 'n' roll bands.
But FAT NANCY have more to offer than just repeating the same old rock 'n' roll formula, and throw in some psychedelic ('Candy Cane Girl'), heavy funk ('Just Another Mother') and goth ('Children of the Midnight Sun') into their hot-cooking mix. And you can't go wrong with a singer like Alex Mitchell, who is more a crooner than just a simple singer. He knows how to use the different colours of his mighty bluesy vocals, and although the rest of the band is far away from being lame, A. Mitchell's vocals are making FAT NANCY to something special. I really appreciate the fact, that he never got infected by any current trends, and here are still elements which could've been taken from Circus Of Power, only stripped down to the bare and dusty bones. So, believe it or not, but the album-title is absolut no exaggeration, and fits perfect to a damn powerful album, which should find its place in every tasteful rock 'n' roll collection. Don't miss it!
(KK)