FARFLUNG (A Wound In Eternity) 2LP/CD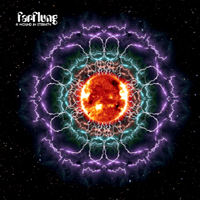 Tommy Grenas, founder of FARFLUNG, belongs definitely to the musicians who kept the spirit of spacerock alive since the early 1980's. His first project was Swamprats, closely followed by Pressurehed and not to forget Nik Turner's Space Ritual just to name a few. He also worked together with Helios Creed's Chrome, Damo Suzuki from Can, and with Lydia Lunch in Anubian Lights. Well, this is only a short compendium of his work, but also a good list of excellent references. In 1995 Tommy Grenas formed FARFLUNG, which recorded a lot of albums since that day for different record labels as for example Flipside, Bad Acid, or Brainticket. In the meantime FARFLUNG signed with Meteor City and 'A Wound In Eternity' is the first fruit of this liaison, and it's a damn tasty, fruit. Tommy Grenas and his crew don't rehash the old formula, which has been defined by Hawkwind. This is like a complete obsolete starship with additional booster rockets. Of course, the groundwork has been created by Dave Brock, Robert Calvert and Nik Turner, but Grenas was never interested in playing some sort of retro music for which his previous work delivers the best proof.
'A Wound In Eternity' is a varied album where heavy and powerful spacerock is switching over to atmospheric themes, which can be as deep as the universe. Hypnotic rhythms and vocals captivate the listener, while the album develops a truly addictive effect. Most of the here included eight songs are linked together, so that one can enjoy this trippy voyage through space and time to the full. Apart from the outstanding song material, the playing skills are marvellous. The starcruiser FARFLUNG functions flawlessly, and flies in his orbit like a bat out of hell. I could go on and on with my endless enthusiasm for this album, but I think it's more interesting for you to make your own experiences with 'A Wound In Eternity'. Fans of bands like Pink Floyd and Neu should also check out this amazing band! Please notice that this album is also available from Cobraside as limited vinyl edition with deluxe gatefold sleeve and two bonus cuts. Both cuts are also included on the CD deluxe edition.
(KK)