FACES OF BLACK (s/t) CD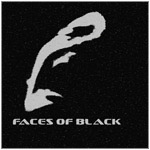 During the last months I received a lot of highy interesting underground releases, and the self-titled debut from FACES OF BLACK, hailing from Canada, is definitely one of the highlights among others. This three-piece comes up with a heavy and refreshing sound, that contains clever song ideas and powerful grooves. It's charged with an energy overdose and some damn fine hooks, what makes songs like "Thorn in my Side", "Bashed" or "Log Jam" so excellent. But this are just two examples of pure downtuned heavy rock madness, played in a very convincing vein. Another big plus here is the professional production here, that is sounding very warm and transparent, and emphasizes the compact heaviness of their sound.
What I like is, that FACES OF BLACK bashing out every track as if they were in the middle of a cut-throat bar fight. Norm Apro's ruthless riffs, coupled with Christine's powerful intense vox and flair for nasty melody, are a testament to the beautiful brutality of heavy rock action. Just to make their sound more tasteful, they have added a bit of metal and punk rock to their blend, and especially Cristine Apro's varied vocals, who's also playing bass reminds me to classic punk bands like Avengers or X. But, and now comes my only criticism, for my taste her singing sometimes sounds a bit too overpowered and too motivated, and less is often more, isn't it? Apart of my critic, the overall impression is very positive, and this band crafted an unexpectedly cohesive, entertaing dark riff-o-rama. If you belong to the people, who are interested in discovering hot and unsigned underground bands and you're sick and tired of the same old fuzz rock shit, then check out this band and order this cd.
(KK)