EREB ALTOR (By Honour) CD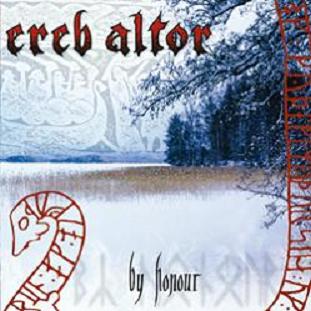 This came along with the other new releases from I Hate Records in 2008 that are reviewed here, and once again the guys from Norrköping, Sweden have signed a very promising band. Formed in the early 1990's, EREB ALTOR have bravely followed the footprints of Bathory's 'Twilight of the Gods' and 'Hammerheart' with impressive and original results. 'By Honour' continues in the vein of what has been termed 'epic viking metal', and their sound is undeniably spiritual with delicate use of acoustic guitars, keyboards, drums, bass and electric guitars providing the basis for their haunting singing style, which is majestically and perfectly arranged.
Mats and Ragnar, the two sole members of EREB ALTOR, don't try to hide their influences, but their music is rich in passion while they have the abilility to create a strong atmosphere and powerful songs. Strength and melancholy goes hand in hand, so that the listener is embedded very soon in a landscape of snow, ice and proud longships. Of course, this is far away from being innovative, but I don't know any other band who plays this style of metal with such passion, and one shouldn't forget that the band was formed almost seventeen years ago. Finally I like to mention that the album boasts sharp, crisp production, thundering heaviness and soaring hooks. A truely mind-blowing release, if you love Bathory's epic era as much as I do.
(KK)