EQUILIBRIUM / MALEVOLENT SNEAKER TOOTH (Remittance Of Pain) Split MCD-R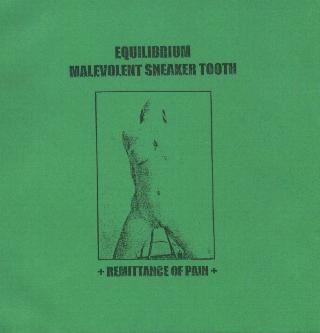 Outside, it's dark, grey and cold and this split CD-R, released by Build Your Weapons and Dishrag Music Unlimited seems to be the perfect soundtrack for this strange day. France's EQUILIBRIUM is the one-man project from Filthy Dave who is playing all instruments and is responsible for the drum programming. The two instrumental tracks "Mirrorshades" and "Anamnesis" are very similiar to each other and sounding like a cross between Burzum and Godflesh. Cold low-fi guitar sounds and stomping mechanical beats are the foundation for EQUILIBRIUM's sound, and creating an atmosphere that reminds me to a walk between ruins of old steel mills. For my taste, the production could have been more powerful but we will see what the future holds for Filthy Dave. USA's MALEVOLENT SNEAKER TOOTH is the brainchild of Mark Golde, and they are featured with four cuts here.
"Brainwaves (Acid Mix)" sounds like the dirty sludgy brother of Fear Factory, but with "The Malevolent Sneaker Tooth: Wild Fossies (Doomed Mix)" the music changes into a doomier direction and has not much in common with the previous track. It's a slow rolling mid-tempo number with some electronic effects interwoven, but all in all it's nothing really special. "Cobras in the Brain" can only be seen a joke, and not as a real song. It's just about thirty seconds and filled with bizarre monk-like voice effects and acoustic guitar fragments. This split comes in a nice DVD case and it's a real underground release, but I have to admit that I expected a little bit more, although "Remittance Of Pain" is no crap. If you're into raw experimental nihilistic stuff send $ / EURO 5 to Dave or Mark for your copy, but please write first!
(KK)