ELECTRIC WIZARD (Black Masses) 2LP/CD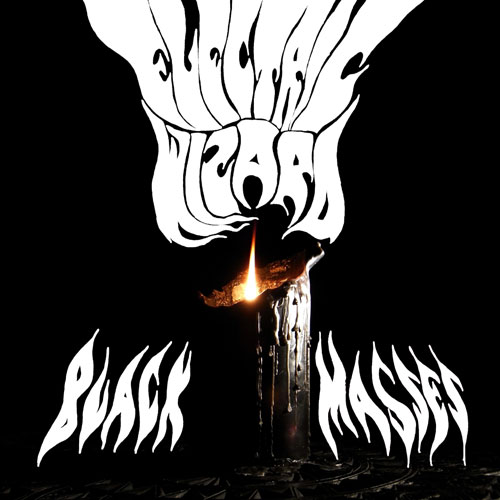 I think if you want, you could write something like "this sounds a bit like Electric Wizard' in quite a number of reviews of newer heavy, doomy albums these days without fear of being wrong. And with this album one can do so without any bad conscience, 'cause 'Black Masses' is the long awaited new album by England's premier sludgy, doomy rockers Electric Wizard. I must say I almost lost track of the band, because neither 'Supercoven' nor 'Let us Pray' really did the trick for me. Especially the last one really bored the shit out of me and I wasn't very interested in checking out the later stuff. Nevertheless, the first two albums are amongst my favourites of English Doom and 'Dopethrone' is cool as well.
So when I was asked to write a review about 'Black Masses' I first had to listen to the other albums. And I have to say that the new one is good enough for some fine entertainment, even though 'Black Masses' is not their best effort. Starting with the mid tempo rocking title track and the trippy 'Venus in Furs', the band opens a new chapter in their book of psychedelic hippie-occult Doom. Both tracks are pretty cool. Next up is 'Night Child' that makes me think of a more fucked up version of Pentagram's Sub-Basement-era and as a friend of that band, I find enjoyment in Jus' wailing voice and the guitar work. The repetitiveness of the riffs is one of the Wizard's trademarks and it isn't annoying, due to the second guitar which always comes up with some psycho-melodic licks and effects that makes songs like 'Patterns Of Evil' very accessible. Furthermore it adds something special to the simplistic riffing.
Stuff like that or the totally insane solo in the slow, drugged out 'Satyr IX' show that the Wizard knows how to keep it interesting. And the Sabbath-worshipping rocker 'Turn Off Your Mind' should be a damn hit 'cause that track has stuck in my mind ever since. The chorus has a certain pop-appeal if that is possible in a doom track. But not everything is gold here as, for example, the strange hissing effect on 'Satyr IX' as well as the uninteresting instrumental track 'Crypt of Drugula' that is far too long. Actually you will hear the same shit for 8 minutes. That sucks. Nevertheless England's celebrated Doom cult act has added another good album to their back catalogue, which should appeal to every fan.
(Thorsten Frahling)
www.myspace.com/electricwizarddorsetdoom