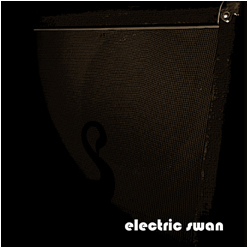 When Wicked Minds guitarist Lucio Calegari recorded his first solo album the musical orientation should be clear: An intense trip back to the early 1970's. Thereby, Calegari's attention is previously focused on hardrock and heavy blues, but influences of funk and psychedelic rock are also found here. This makes him the third member of Wicked Minds, who does not feel challenged enough by the work with his main band, at least it could almost give the impression. Lucio Calegari was supported by five additional musicians, all of whom are true masters of their trade. As a result of this collaboration, ELECTRIC SWAN has released a classic rock album of the highest caliber. That's really music that delights the ear as long as you have a preference for bands like James Gang, Deep Purple, Free or Captain Beyond, to name a few.
Here are three cover versions included among the eleven songs such as 'Your Love Been So Good To Me' (George Clinton), 'Teaser' (Tommy Bolin), and 'Creeping Death' (Metallica). They seamlessly integrate into the self-penned material, whereby I should pay particular attention to 'Creeping Death'. Calegari and band have transformed this song into a ten minute heavy rock monster which comes directly from the 70's. The remaining two cover versions are also quite well, particularly noticeable is George Clinton's track mainly due to the female vocals. But the most important thing are the self-composed songs, which fortunately are more interesting than the tracks mentioned earlier. Most songs are based on first-class rock riffs that are assisted by a tastefully arranged organ. ELECTRIC SWAN brought the vintage hardrock formula into the 21st Century with modern production, quite similar to bands like Abramis Brama, Blindstone or Kamchatka.
As I remarked earlier, the album is surprisingly diverse ranging from organ-based hardrock ('In The Hush Of Daze') to funk rock ('Calibro') to heavy blues ('Crossing The Line'). Oh yeah,'Crossing The Line' is one of the most emotional songs here and touches the heart with ease. This is one of the songs I could hear over and over again. The greatness of this bittersweet song should not be underestimated. Organist Paolo "Apollo" Negri, who's also part of the Wicked Minds line-up, proves his whole ability in 'Apollo's Dream', an instrumental track evoking memories of Gov't Mule. Despite the flawless musicianship ELECTRIC SWAN's music speaks irresistibly to the gut and doesn't sound as if it has been taken out of the fridge. I hope we can reckon with more music of ELECTRIC SWAN in the future, because this is an excellent debut which is distributed by Black Widow Records.
(KK)
http://www.myspace.com/electricswan
http://www.badchilirecords.com