ELECTRIC MOON (Lunatics Revenge) LP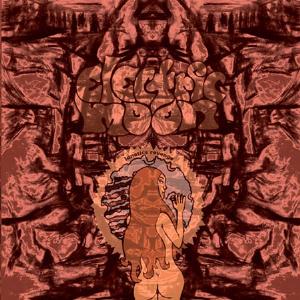 Fasten your brain cells! 'Lunatics Revenge' is a truly rewarding experience of exploring kraut-a-delic sonic galaxies. Germany's ELECTRIC MOON mix their style of rock with intense improvisational pieces and hypnotic rhythm patterns. 'Lunatics Revenge' tends to the more psychedelic end of the prog rock spectrum. The opening passage of 'Gefährliche Planetengirls' sets the tone for the bombardement of your senses. Musically, the song alternates between more rocking sections with hard edged electric guitar riffing atop and more relaxed and spacey sections which have a high affinity for dub.
'Lunatic' is the next tune and again the band knows how to entertain the listener with liquid grooves and dynamic guitar playing. Speaking of guitars: there is plenty of tasty guitarwork on the album. Dave 'Sula Bassana' Schmidt's guitar licks are superb as he winds through driving rhythms, psychedelic excursions and scorching lead runs. He runs the gamut of styles while the whole band locks in behind propelling the music to the outer limits of your imagination. His crunchy tube-driven tone is perfect and has similarities with Jason Morales from Tia Carrera. Just listen to the third tune 'D-Tune' that clocks in at nearly 18 minutes. The band really cooks on these jam session. There are also a few vocals, but basically ELECTRIC MOON don't leave their instrumental path and that is good as it is.
'Lunatics Revenge' is completed by 'The Landing' which is the calmest song here. It's a perfect finale and will ease you down. It's the calm after an electric storm. All in all, 'Lunatics Revenge' is a very good record that is never boring. Listen to the album through good headphones, and the enjoyment is magnified. Crank it up and let ELECTRIC MOON send you on a kaleidoscopic sonic trip.
(KK)