ELECTRIC MOON / GLOWSUN (Sun And Moon) Split-LP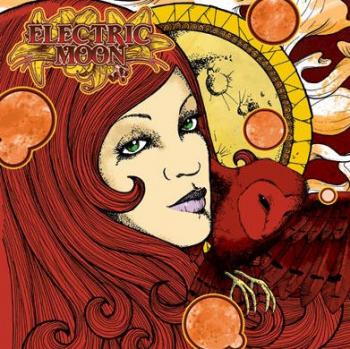 It is already very long time ago that French heavy rockers GLOWSUN crossed my path. As far as I am able to recall, it was in 2008 when they released their debut album 'The Sundering' via Buzzville Records. It was a nice effort which had more to offer than the typical Kyuss sound. I was very grateful for that because Kyuss and "stonerrock" in general never means much to me. In the early 1990's I was still listening to Saint Vitus, Death Row/Pentagram, Asylum/Unorthodox, Internal Void, The Obsessed, Trouble and so on while almost the whole world was in frenzy of Kyuss. Be that as it may, I am now digressing from this review. So, back to the previous subject, which is this split-LP.
The other band on this heavy platter is ELECTRIC MOON from Germany and this is my first aural meeting with the band. However, one thing after another: GLOWSUN starts off the 'Sun' side with 'Death's Face'. The beginning of this track is promising, but then the whole sound drifts into typical "stonerrock" fields. Grooves and riffs that we've all heard a million times. And these grooves and riffs are not so good that I want to hear them over and over again. The next track is 'Lost Souls', which I like a bit better because of the riffs and the arrangement. Of course, the overall sound is fat, fuzzy and crunchy but it won't leave a lasting impression on me. The last track of GLOWSUN is 'Monkey Time'. To me, that is the best song of the three, simply because it offers more variety. Let us now look at the 'Moon' side, where ELECTRIC MOON unleash a lysergic maelstrom that draws influences from space rock and trippy krautrock. Appropriately, it is entitled 'Trip Trip Trip'.
Fortunately, it is no uncontrolled hodgepodge of sounds but rather a careful structured sonic excursion. Indeed as is the case with GLOWSUN, ELECTRIC MOON don't need any vocals. And if they occur, they only play a subsidiary role. The trip continues with the second last track 'Lost And Found Souls', and once again ELECTRIC MOON thrill the listener and show an infectious joy in playing. Although their music isn't based on power chords, it's surprisingly heavy and full of power. While listening to these two songs I feel like a rabbit fixated by a snake, and I think that is a very good sign. I really don't care about GLOWSUN, but the two long songs from ELECTRIC MOON are worth buying this strictly limited record.
(KK)