ELECTRIC MAGMA (Snail The Wah) CD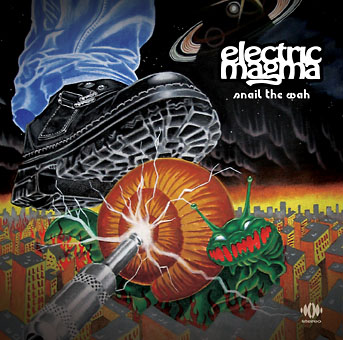 Three young Canadians have listen to a lot of heavy 70's Rock, as well as Kyuss and Fu Manchu, than decided to form a band with the concept to base their instrumental rock on a lot of jamming and improvisation. As a result, here's their latest effort, which has been released in 2005 on Around Ahead Music. 'Snail The Wah' is divided into two parts: the first one includes eight songs, which have been written before entering the studio, while part two is coming up with five songs, that are based on improvisation and spontaneous ideas during the recording session. But don't expect any kind of wild and orgasmic hippie noise; in spite of all jamming ELECTRIC MAGMA have more or less straight songs, and they created a fat, fuzzy and heavy sound.
And ....not to forget the excessive use of wah-wah pedals. This all sounds very nice and, at least, that's what it really is - a nice, but very average album, too. This is just riff after riff, sometimes more groovy or more mid-tempo, but I've heard all this sometimes somewhere before. OK, they've executed this kind of heavy and stoney sound in a promising way, and the production builds an emphasis on the warm and thick tube-driven heaviness, but ELECTRIC MAGMA should improve their jamming qualities and/or songwriting abilities. But I guess, that other people will really love this band for what they are doing. So, all you stonerheads - check out the Canadian underground and discover ELECTRIC MAGMA!
(KK)