ELDER (Dead Roots Stirring) 2LP/CD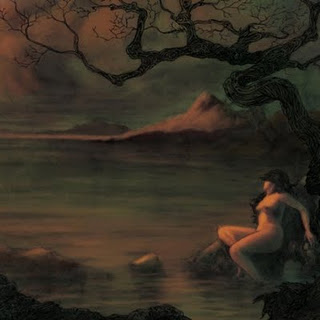 2011 saw the follow-up to ELDER's debut album from 2008, which already showed the band to have great potential. With 'Dead Roots Stirring' the three-piece really took it to the next level for them, you can feel they have grown and matured as a band. The five songs on the album (the shortest clocking in at just under nine minutes) are heavy but sound relaxed at the same time and offer a vast amount of bluesy melodies, which give the songs a jam-like feel without getting boring. 'Gemini' starts the record with a great mid-tempo riff giving way to some arpeggioed chords which are topped with bluesy vocals before the song goes into a solo frenzy which breaks down to a slowly-trudging riff to the end, again topped off with some haunting guitar melodies. This is somehow ELDER's approach to their songs, song structures with easily noticeable verse and chorus are not their kind of thing.
Guitarist and singer Nick DiSalvo really shines throughout the whole album, supplying great melodious riffs and solos one after another. He quit the harsh growling that was partly heard on the debut and relies on his raspy singing voice, which is far more appealing and reminds me a bit of Bill Steer on the Firebird records. But the guitar is really the center of ELDER's sound, and it seems hard for DiSalvo's band-mates to leave their own marks, but they seem to step back willingly and concentrate on creating a rock-solid foundation on which DiSalvo can create his meandering riffs and melodies, best showcased in 'The End' and in the 12 minutes of the title track.
Matt Cuoto's drumming is simple and effective and locks in really well with the guitar riffs, which are backed-up by the warm, growling bass of Jack Donovan. The guitar tone is overdriven and rough and dense without relying on over-the-top distortion or a broadside of effects, so even open guitar chords come through nice and defined. The song themselves are not as easily distinguishable from each other as I hoped them to be, sometimes the ultimate killer riff is missing, but that is the only weak point to spot here. For me 'Dead Roots Stirring' was one of the best releases in 2011, a great album of heavy guitar-driven 70ies-inspired rock worth checking out.
(Steve Albino)
www.myspace.com/beholdtheelder