ECLECTIKA (Dazzling Dawn) CD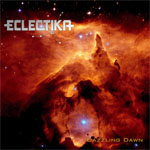 The French band ECLECTIKA has been in existence since 2001, consisting of a male and female vocalist plus Sébastien Regnier, who is responsible for all compositions, vocals and everything else. However, there is nobody left of the original lineup, composed of two guitarists, one bassist, a drummer as well as a singing keyboardist. Actually, this is a one-man project with interchangeable guest vocalists, so that the name ECLECTIKA is misleading, because the music has very little in common with the early days. Today, the musical arrangements are very much keyboard-biased, so that the songs have a strong tendency in the ambient direction. The sound quality of the tracks, however, may vary considerably. Mostly they sound very artificial including a couple of loops and a tinny drum sound while Sébastien Regnier tries to ape other instruments. And the orchestral arrangments are sometimes a bit too much.
On the other hand, there are some very atmospheric passages, where Regnier knows how to handle the synthetic sounds without trying to imitate any other instruments. In such moments he is using the keyboards as an independent instrument to express different moods and feelings, but the music becomes more lively when the distorted, harsh black metal screaming comes in. Unfortunately this does not apply for the vocals of Alexandra Lemoine. She sings in an unpracticedly opera-like style with heavy tonal intonation problems or to express it more clearly: she hardly doesn't strike one single note right and her vocals are just horrible. This becomes particularly noticeable when she sings duet with one of the other vocalists. Unfortunately, she believes in the widespread view that you only need a lot of training to play an instrument, but not, when you like to sing.
Nevertheless, there are a couple of good moments and approaches on 'Dazzling Dawn' which show Regnier's high level of creativity and his ability to shape the harmonic colours of the music. If you interested in this album, I'd recommend the following tracks: 'There is no Daylight in the Darkest Paradise', 'Experience 835' and '11 Corps décharnés'. These atmospheric songs are moving toward an ambient black metal direction - gentle synthetic, mysterious sounds with echoing voices from the depths...from nowhere. This songs are pretty well done, because Alexandra Lemoine's voice doesn't ruin them and there are no artificial and bombastic ochestral sounds. For that reason I can only recommend to Sébastien Regnier that he should continue his efforts from that point and to let go of ECLECTIKA's old concept.
(Blaue Nacht)