EARTHRIDE (Vampire Circus) Pic-LP/CD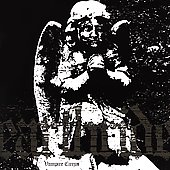 Finally, it's here - EARTHRIDE's second album! And it makes me feel like being 23, when I discovered all the amazing Maryland-bands with the help of Hellhound Records. Now I'm nearly 40 years old, but my enthusiasm about all the heavy bands, which are located in the East of the USA is still with me. Ok, I guess I've written something comparable in another review, so I'll start focus on 'Vampire Circus'. A few years have past since the release of 'Taming Of The Demons' and the former bass-player left the band, but mostly it was very quiet in the EARTHRIDE camp. But the silence is over, and the next chapter is open in the band's chronicles. The first two tracks 'Fighting The Devils Inside You' and 'Understand' make clear without compromise, why this band is one of the best doom-laden heavy rock bands on this planet. The group write memorable songs with mighty hooks, and they have an overall sound, which is so huge and massive, what makes it nearly impossible to find appropriate words to describe it. Bass and guitar-sound are extreme heavy and brute, while the drums are played extreme hard and precise, and once again drummer Eric Little shows, that he plays a very minimalistic and clever style.
At least, Dave Sherman had varied his way of singing more than on the previous release, and here are moments when he reminds me to old Wretched, instead of going deeper into the Anselmo-thing....... thanks, man...I appreciate it a lot! This time, EARTHRIDE knows to surprise the listener with additional hammond-organ like in 'Swamp Witch', that sounds like heavier The Mystick Krewe Of Clearlight or Deep Purple going badass....... 'Interlude' is a short acoustic piece, which remembers the listener once more, that Black Sabbath still is a big influence for the group, while 'For Wrath And Ruin' will make Lemmy very happy. Mike Dean of COC produced this album, and he did a pretty good job, although not better than Chris Kozlowski does. 'Vampire Circus' is fucking brilliant and I hope, more people will realize that, instead of spending their money for over-hyped heavy shit.
(KK)