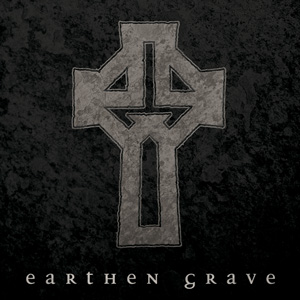 For whom does the bell toll but the curious listener that it introduces to the sonic world of Earthen Grave, both song and name of the new playground of former Trouble bassist, Debris Inc. co-founder and short-time Goatsnake member Ron Holzner and Jason Muxlow of the Living Fields. This Chicago six-piece has recently played a lot of doom fests and local shows in the U.S. of A. And the band could be easily labeled Doom Metal, but this has little to do with the slower than slow stuff. Instead, there is a lot of good old, dark mid-tempo riffing and some twin leads of the old Trouble days, like in 'Life Carries On' and some Sabbath-y grooves, for example in 'Tilted World'.
But there is more to this. And that is not only due to classical violinist Rachel Barton Pine whose playing adds something special to the sound. And for those of you that are full of prejudices (like yours truly sometimes is as well), I can say that by no means this makes the band any Gothic Metal at all. No. It adds more of a folk feeling to the acoustic guitar parts like in 'Blood Drunk', which therefore gets a slight 70s Folk Rock touch but with a lot of heavy riffing. Rachel contributes solos as well as twin leads. And the band speeds up every now and then for some Heavy Metal or Thrash riffing and classic Metal solos. Just listen to Rachel giving the six strings - yeah, I said six strings - of her extended violin hell in her lead at the end of 'Beneath A Shovel Load'.
That girl knows her Metal for sure. Already the end of the title track shows more of that classic Metal influence. And so do the Thrash Metal parts in the otherwise epic doomy album closer 'Death On The High Seas', while 'Dismal Times' and 'Fall In' reminds me a bit of slower, darker stuff by Saxon mixed with Metallica maybe. In moments like this, I think the band could appeal to the more open-minded Metal fans and would also suit to big Metal fests. Especially because the band has some epic feel to it and singer Mark Weiner has the pipes a good Metal singer needs to have. He has a good variability, ranging from a more aggressive to a more epic style and his voice always sounds good no matter what he does with his talent.
Add to this some 70s proggish arrangements and ready is this damn fine mixture, that really pleases me. And did I tell you the guys and girl were 'Best New Entertainer' at the 2010 Chicago Metal Awards? It seems as if they are kicking up a fuss at their home. And like in their shows, where they used to play covers of songs such as 'Stargazer', Earthen Grave has also two cover versions recorded for their debut album. The first one is a cool version of Witchfinder General's hit 'Burning A Sinner', and the second is Pentagram's 'Relentless', obviously a nod to Ron's friend Victor Griffin. Maybe these cover tunes would not have been necessary, but on the other hand they do no harm.
(Thorsten Frahling)